Building for the Future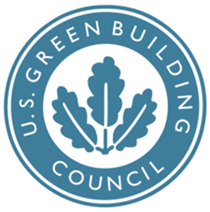 One of the ways the U.S. Department of Energy's national laboratories, including Brookhaven, have been working to achieve sustainable building and development practices is to work toward achieving Leadership in Energy and Environmental Design (LEED) green building certification. LEED standards, developed by the U.S. Green Building Council (USGBC), are internationally recognized. Under the system, projects are evaluated according to specific criteria within five categories – sustainable sites, water efficiency, energy and atmosphere, materials and resources, and indoor environmental qualities. Certification of a building is based on the points accumulated in the various categories.
Two of the Lab's newest buildings – the Research Support Building (RSB) and Center for Functional Nanomaterials (CFN) – were awarded a Silver rating, the third highest certification to be earned, in 2008. Of the two buildings currently under construction at the Lab, the National Synchrotron Light Source II (NSLS-II) is vying for a Silver rating and the Interdisciplinary Science Building (ISB) is being constructed to achieve a Gold rating. Two 1960's era buildings, Chemistry and Physics, which are currently being renovated, will meet the standards for a LEED Silver certification for commercial interiors. Learn more about the Lab's green buildings in the following articles.
Achieving the Green Standard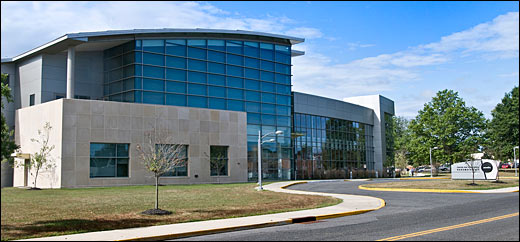 Center for Functional Nanomaterials
Sustainable design has many benefits including lower operating costs, reduced waste going to landfills, conservation of energy and water, reduction of greenhouse gas emissions, and a healthier, safer work place. Both Brookhaven's Research Support Building (RSB) and the Center for Functional Nanomaterials (CFN) were designed and constructed with these goals in mind.
Each building site had been already partially developed, contained no endangered species, and was not near wetlands. The Laboratory agreed to preserve open space equal to double the size of each building in a wooded area in the eastern portion of the site for the life of the buildings. Preferred parking is provided for carpool vehicles and changing rooms and showers are available for those commuting to work by bicycle. No outdoor sprinklers were installed and outdoor lighting is subdued to reduce light pollution.
The buildings were designed to ensure low energy and maintenance costs. Materials and resources were conserved as much as possible during construction. For both buildings, 75 percent of construction waste was recycled or reused. To preserve indoor environmental quality, ductwork was kept clean and dry, ventilation rates are based on carbon-dioxide sensors, and water-based paint and other low volatile-organic-compound-emitting materials were used. Occupancy sensors in offices and circulation areas control efficient lighting and thermostats are located throughout the buildings so that occupants can readily control, within limits, the interior temperature. An extra six inches of insulation in the exterior walls of the RSB helped increase energy efficiency by 20 percent.
Striving for Gold at ISB
by Peggy Caradonna, Project Manager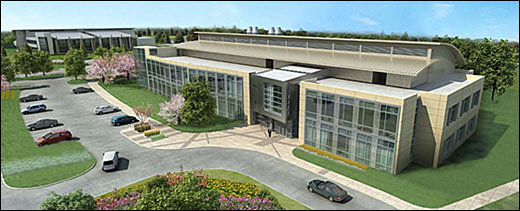 Artists' rendering of the Interdisciplinary Science Building
Brookhaven's new Interdisciplinary Science Building (ISB) is under construction with a targeted 2012 completion date. This 88,000 square-foot, $47 million facility will be an energy-efficient and environmentally sustainable research facility. The project is on track to surpass the mandated LEED Silver certification and receive a Gold rating. Additionally, it meets the 30 percent energy use reduction requirement for new federal buildings under the Energy Policy Act of 2005.
ISB boasts water savings of 55 percent and energy savings of 37 percent (cost savings of 29 percent) as compared to baseline cases. Water use is reduced through low-flow and low-flush plumbing fixtures. Energy savings is achieved by a north-south building orientation; high thermal resistance materials in the roof, walls, and window assemblies; heat recovery units; and high-efficiency fume hoods in the experimental labs. Materials selected for the project maximize recycled content and are procured within the region to the extent possible. Construction waste will be reduced 75-85 percent through salvaging or recycling.
To support occupant well-being and satisfaction, low-emitting materials, heating and cooling zones aligned with user's activity levels, and thermal and lighting controls are included in the building. Additional site-related features include bicycle racks, preferred parking for fuel-efficient vehicles, and highly reflective roof and hardscape materials to minimize heat island effect. Storm water management uses low-impact design techniques including permeable paving and underground chambers.
ISB will provide work space for top scientists to conduct energy-related research focused on producing breakthroughs in renewable energy conversion, transmission, and storage.
Building Professionals Visit Brookhaven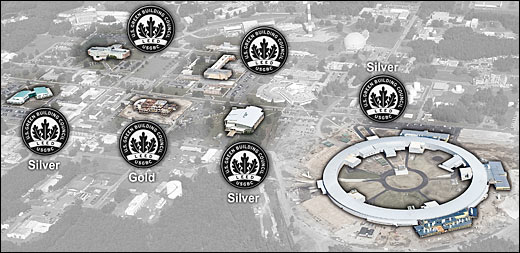 BNL's LEED-certified buildings
Two organizations — the Long Island Chapter of the U.S. Green Building Council and the International Facility Management Association (IFMA) — recently held their monthly meetings at the Laboratory.
IFMA, the world's largest international association for professional facility managers, with more than 20,000 members in 78 countries, certifies facility managers, provides educational programs, and conducts research. Brookhaven's facility complex managers are members and are certified through the IFMA. The U.S. Green Building Council is a nonprofit organization that recognizes energy-saving buildings through its LEED certification system. Brookhaven was the ideal host as the Lab has more LEED-certified facilities than any other organization on Long Island.