Integrated Knowledgebase to Aid Energy Research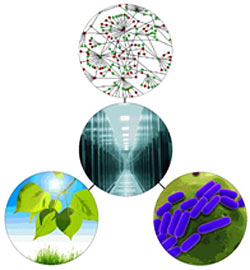 Scientists at Brookhaven Lab along with collaborators at Cold Spring Harbor Laboratory and Yale University have embarked on a Department of Energy-wide effort to create, out of many separate streams of biological information, a single, integrated cyber-"knowledgebase" (called Kbase for short) focused specifically on plants and microbes.
This systems biology knowledgebase will be a unique resource, bringing together multiple research communities and empowering them with computational tools to address fundamental biological questions in support of DOE missions such as the production of biofuels, sequestering carbon in the ecosystem, and cleaning up environmental pollution. Combining information about plants, microbes, and the complex biomolecular interactions that take place inside these organisms into Kbase will greatly enhance scientists' ability to access and share data.
Electric Vehicles May Drive Hundreds of Miles on Single Charge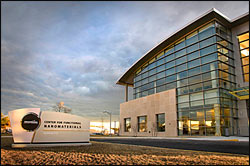 Brookhaven Lab's Center for Functional Nanomaterials
With gasoline prices still hovering near $4 per gallon, scientists at Brookhaven Lab's Center for Functional Nanomaterials (CFN) are helping to develop electric vehicles capable of driving hundreds of miles on a single charge. A new compound of five tin atoms and one iron atom (FeSn5) created at the CFN is another development along the road to higher capacity lithium-ion batteries for those vehicles of the future.
Compared to other types of rechargeable batteries, lithium-ion batteries weigh less, can store more electricity for longer periods of time, and can handle more cycles of use and recharging. They are used in some electric cars today, but are not yet powerful enough to compete with cars that can travel 300-400 miles on a single tank of gasoline.
Lithium-ion batteries provide energy as electricity flows from an anode to the device being powered and then back to the battery's cathode. One way researchers compare batteries with different components is by examining theoretical capacities – how much charge a battery can store theoretically in ideal conditions, and practical capacities – how much charge a battery can store in real-world conditions that are more similar to everyday use. BNL scientists found that the practical capacity for anodes of FeSn5 was 100 percent higher than the ideal capacity for anodes used in conventional lithium-ion batteries.
Modeling Plant Metabolism to Optimize Oil Production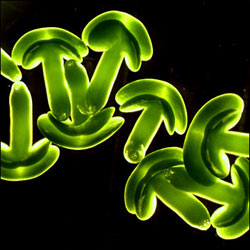 Developing embryos after being excised from a growing rapeseed plant. The embryos accumulate seed oils which represent the most energy-dense form of biologically stored sunlight, and have great potential as renewable resources for fuel and industrial chemicals.
Lab scientists have developed a computational model for analyzing the metabolic processes in rapeseed plants – particularly those related to the production of oils in their seeds. Their goal is to find ways to optimize the production of plant oils that have widespread potential as renewable resources for fuel and industrial chemicals.
Plant seed oil represents the most energy-dense form of biologically stored sunlight, and its production is controlled, in part, by the metabolic processes within developing seeds. Prior efforts to model these processes have been limited in scale. By analogy, this would be like assessing traffic flow by measuring activity on only the major highways, not considering the many smaller roads. The new model -- which includes 572 biochemical reactions that play a role in the seed's central metabolism and/or seed oil production and incorporates information on how those reactions are grouped together and interact -- aims to get a more detailed view.
This large-scale model is a much more realistic network, like a map that represents almost every street, with computational simulations to predict what's going on. Scientists can use it to simulate complicated metabolic processes under varying conditions – for example, changes in oil production or the formation of oil precursors in response to changes in available nutrients, light conditions, and other variables. Scientists can now simulate the effect of "road blocks" or where to add new roads to most effectively eliminate traffic congestion on the path to biofuels production.
APS Honors Lab with Historic Site Designation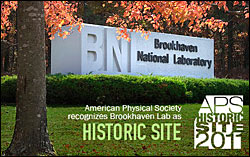 The American Physical Society (APS), a 48,000-member organization representing physicists in the United States and around the world, has named Brookhaven Laboratory an APS Historic Site.
The purpose of the APS Historic Sites initiative is to increase public awareness of physics and physicists' awareness of important past scientific advances and their place in the historic evolution of their work. APS has previously designated about 20 historic sites; however, this is the first time that an entire national laboratory has received this prestigious recognition.
The APS designation highlights Brookhaven's physics discoveries and forefront science in nuclear and high-energy physics and the physics and chemistry of materials, energy, and the environment, as well as related contributions to biology and medicine. Laboratory researchers' explorations of fundamental science have resulted in seven Nobel Prizes – five in physics – and insights into some of the most puzzling questions about matter and the universe, as well as advances across scientific fields.