Beyond the Big Bang – The Versatility of RHIC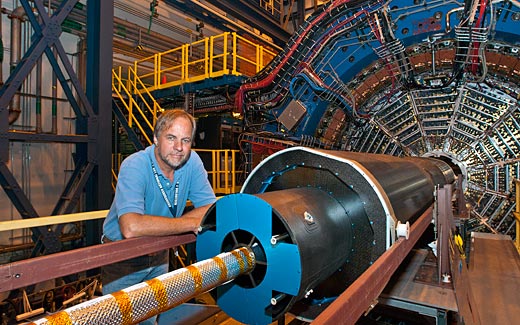 Researcher at RHIC's STAR detector
The Relativistic Heavy Ion Collider (RHIC), a particle accelerator commissioned at Brookhaven in 2000, supports an extensive program of research exploring the fundamental nature of matter. Financed by the U.S. Department of Energy with significant contributions from Japan and other nations, it is one of the world's most powerful accelerators, and is the only collider now operating in the U.S. RHIC recreates the conditions that existed just after the Big Bank so scientists can study the fundamental particles that make up nearly all visible matter in the universe – everything from stars to planets to people – and how Nature's strongest force holds this matter together.
RHIC is also a key driver of technological, educational, and economic advancement for the regional economy (see story below). The research conducted at this facility attracts the World's "best and brightest," and trains a high-tech workforce to address scientific and technical challenges with widespread impact on communications, energy technologies, national security, medicine, and more.
Building off the capabilities of facilities first developed to support RHIC, the Brookhaven Linac Isotope Producer (BLIP) is one of just two accelerator facilities in the U.S. that develop and produce medical isotopes. The strong demand for these isotopes is evidenced by the fact that the need for an isotope widely used in heart scans - strontium 82 - now exceeds the capacity of existing production facilities at BNL and Los Alamos National Lab.
The capabilities developed around RHIC have also been instrumental in the development of a new type of particle therapy. This new technology involves use of a rapidly-cycling medical synchrotron to target tumors more precisely than currently possible. Scientists and engineers are working on detailed designs for the new machine.
New Energy Storage Technology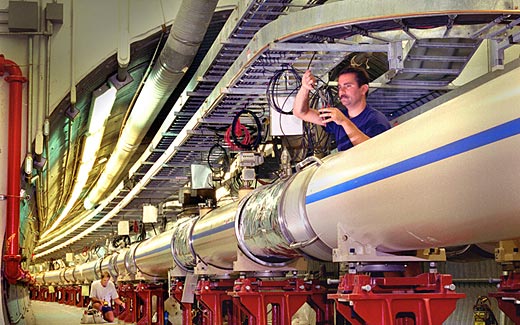 Superconducting Magnets at RHIC
RHIC relies on powerful superconducting magnets to generate the immense power and speed needed to accelerate and collide heavy particles. Because of the role these superconducting magnets play, BNL is among the world's leading centers for research and development on the science and technology of superconductivity.
In fact, BNL scientists are world-renowned for their expertise in designing magnets with high-temperature superconducting materials which lose all their resistance when cooled by liquid nitrogen. The magnetic fields generated by these magnets can hold enormous quantities of electrical energy. Their qualities mean that they could provide the basis for a new generation of especially powerful, highly efficient energy storage devices. This type of storage would significantly improve the prospects for integrating energy from renewable sources such as wind and solar into the mix that currently feeds the nation's electric grid.
Discovery Science Fuels Economy
In an economy that is increasingly built on science and technology, Brookhaven National Lab is one of Long Island's – and New York State's – leading scientific enterprises. In a recent economic impact report on RHIC, it was stated that RHIC accounts for a significant part of all activity at the Laboratory. In FY12, RHIC's operating budget of $157 million supported 859 Brookhaven employees – more than 25 percent of the Lab's employee population.
However, RHIC's influence on the economy goes beyond the Laboratory; it also impacts the state and local economy. In the report analysts found:
The total economic output generated in New York State by RHIC and visiting researchers is $183.4 million;
Directly and indirectly, RHIC supports a total of 1,469 full-time equivalent jobs including jobs at BNL and elsewhere on Long Island and throughout New York State, and
More than $114 million in earnings is generated by these full-time jobs.
In just twelve years, investments in RHIC have already yielded significant advances in physics and in applied science and technology; they've also had a significant impact on the region's economy. Over the next decade, RHIC's impact could be even greater.
BNL Fire-Rescue Crew Responds to LIE Pile-up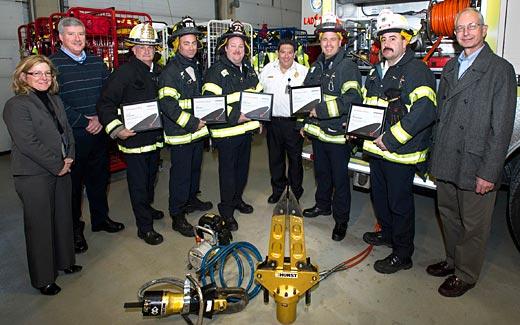 On December 19, 2012, BNL fire-rescue crew members responded to a call for assistance at a multi-vehicle accident from the Chief of the Ridge Fire Department. Because of the Lab's proximity to the accident site on the Long Island Expressway the BNL crew was among the first to arrive at the scene. With over 30 vehicles involved and two cars on fire, the BNL crew immediately started a search for trapped victims. The BNL firefighters extricated one person using the "jaws of life" and helped extinguish the fires.