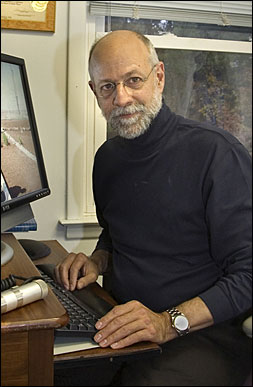 Steve Musolino
Stephen Musolino, a certified health physicist in the Nonproliferation & National Security Department (NNS), has been elected to the National Council on Radiation Protection and Measurements (NCRP). The organization was chartered by Congress in 1964 to serve as a nonprofit national resource on topics related to radiation protection and radiation quantities, units and measurements.
"The NCRP has a long and distinguished history of producing sound scientific reports to promote the practice and improvement of radiation protection, and to enable the benefits of radiation technology to society," Musolino said. "It is an honor to be elected to this prestigious body and I look forward to contributing to the important work of the Council."
In a 2006 issue of the Health Physics Journal, Musolino, in collaboration with Frederick Harper, a scientist from DOE's Sandia National Laboratories, provided concise guidance to first responders, planners and decision makers for protective actions during the first 48 hours after a dirty bomb explosion. Their guidance was based on the results of over 600 experiments performed by Harper, who simulated dirty bomb explosions to determine how the radioactive materials would disperse in the environment.
In addition, Musolino has participated in the National Nuclear Security Administration's (NNSA) Global Threat Reduction Initiative (GTRI) to assist foreign governments and international and domestic organizations in improving the security, control, and disposition of high-risk radioactive materials. He has gone to Nigeria as a member of a team to assess the security of radiation sources and recommend upgrades to ensure they are safeguarded appropriately. He also took part in the partnership between NNSA/GTRI and INTERPOL, the international criminal police organization, to transfer surplus radiation detectors and provide training to police officers in foreign countries. Musolino was part of a team who transferred over 300 radiation detectors and instructed over 500 front-line police officers in 13 countries on how to detect illicit radioactive material.
As a member of the DOE/NNSA Radiological Assistance Program, known as the RAP team, Musolino is trained to evaluate the consequences of a radiological emergency and advise local authorities on what actions need to be taken to minimize the health and environmental effects of an incident. BNL is the RAP Regional Coordinating Office for 11 states, mainly in the Northeast. Musolino has developed emergency plans and procedures for RAP and participated in numerous emergency drills and full-scale exercises. After the 2001 attack on the World Trade Center, Musolino was part of the RAP team that was deployed to monitor the debris for radiation.
In the 1990s, Musolino developed and managed the Environmental, Safety & Health program for BNL's world-class accelerator, the Relativistic Heavy Ion Collider (RHIC), from the construction through the commissioning of the $600-million facility. He helped develop and obtain ISO 14001 registration for RHIC, demonstrating the high quality of the RHIC Project's environmental management system. ISO 14001 is an internationally recognized standard of environmental excellence. The RHIC Project was the first DOE Office of Science and first Long Island-based organization to obtain third-party registration to the ISO 14001 standard.
Stephen Musolino earned a B.S. in engineering technology from the State University of New York at Buffalo in 1976, an M.S. in nuclear engineering from Polytechnic University of New York in 1982, and a Ph.D. in health physics from the Georgia Institute of Technology in 1989. He joined the Lab in 1978 as a nuclear instrumentation technician, and he became a health physicist in 1981. He assumed his current position as a member of the scientific staff in NNS in 2004. Musolino has received numerous awards for outstanding performance from DOE and Brookhaven Science Associates, the company that manages Brookhaven Lab for DOE.