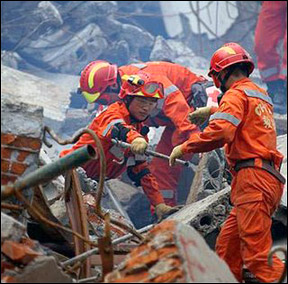 For the past few weeks, Lab community donations to benefit victims of the flooding in Myanmar and the earthquake in China have been recorded by two BERA clubs - the Chinese Students & Scholars Association (CSSA) and the Asian Pacific American Association (APAA). As of the BNL donation deadline of June 13, Lihua Zhang and Susan Wong report that total donations reached $41,744. Brookhaven Science Associates, the company that manages the Lab, generously matched the BNL dollar donations up to $25,000, for a total of $66,744.
This sum included $7,538 resulting from special events organized by Lab groups and BERA clubs. These included:
5/29. Car Wash by the Brookhaven Veterans' Association and Cycletrons Motorcycle Club, cosponsored by the Lab Fire Department and Safeguards & Security Division: $706
5/30. Dance Social hosted by the Social & Cultural Club: $620
5/31. "Project Floyd" Concert sponsored by the BNL Music Club: $2,000
6/05. Family Movie Night sponsored by the Indo-American Association (IAA) and cosponsored by the Association for Students & Postdocs: $351
6/07. BNL Cultural Concert sponsored by the CSSA, APAA and co-sponsored by many other BERA clubs, local community and school groups: $2,000
6/12. International Food Tasting sponsored by the English for Speakers of Other Languages, in collaboration with the APAA, CSSA, and IAA: $987
5/27 & 28, 6/04, 6/10 &11. Poster Appeal sponsored by the CSSA: $874
On behalf of the CSSA and APAA, Zhang expressed appreciation for BNL's and the community's generous support. "We thank Lab Director Sam Aronson, Lab management, Human Resources & Occupational Medicine Division Director Bill Hempfling, Quality of Life and BERA Supervisor Christine Carter, Lab community members who donated, Nayyarson Corp. for donating food at five events, and the BERA club members, local community groups, school groups, and volunteers who worked so hard to organize the special events," she said. "It is very satisfying that we can help people who are in such desperate need."