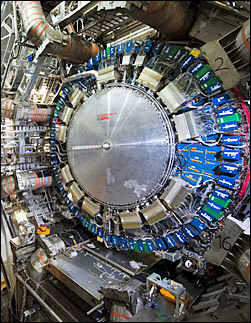 ATLAS detector
On June 25, the U.S. Large Hadron Collider (LHC) collaborations celebrated the achievement of Critical Decision 4B (CD-4B), which signals the formal completion of the U.S. construction commitments to what will be the world's most powerful particle accelerator. For Brookhaven scientists, this milestone signifies the end of almost 15 years of research and development, construction, and testing of critical components of the ATLAS detector and the LHC accelerator.
Brookhaven played a key role in the LHC construction project as the host for the 39 U.S. universities and four national laboratories involved with ATLAS. Fermi National Accelerator Laboratory served as the host laboratory for the U.S. CMS and accelerator programs. During this time, more than 100 physicists, engineers, technicians, and administrative staff from BNL helped design, prototype, fabricate, and install the ATLAS liquid argon calorimeter and the cathode strip chambers. In addition, Brookhaven's Superconducting Magnet Division made 20 superconducting dipole (bending) magnets for the LHC accelerator - based on the successful magnet design at the Relativistic Heavy Ion Collider - and completed acceptance testing of nearly all of the cable used in the full collider.
"Although this represents a significant milestone due to efforts of many people, we are really excited by the prospects of transformative discoveries as the collider starts operating," said Brookhaven physicist Howard Gordon, U.S. ATLAS Construction Project Manager.
Experiments at the LHC, near Geneva, Switzerland, will allow physicists to take a big leap in their exploration of the universe by colliding beams of tightly focused protons at close to the speed of light. ATLAS may help scientists unravel some of the deepest mysteries in particle physics, such as the origin of mass or the identification of dark matter. Of the almost 2,200 participants in the ATLAS collaboration, about 600 are U.S. physicists, engineers, and graduate students.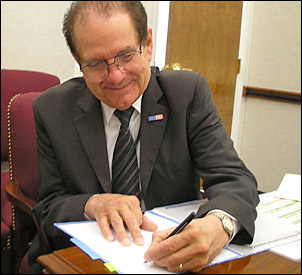 DOE Under Secretary of Science Ray Orbach approves the formal completion of the U.S. LHC construction project.
"I would like to congratulate the physicists, engineers, and technicians who made the U.S. LHC construction project possible," said Raymond L. Orbach, DOE Under Secretary for Science and Director of the Office of Science. "The U.S. has made important contributions to this impressive international effort."
Throughout the country, more than 1,200 American physicists, engineers, students, and technicians from 90 institutions contributed to the LHC. The U.S. effort - a $531 million investment - was funded by the Office of High Energy Physics in DOE's Office of Science and the National Science Foundation.
"We are proud to have partnered with the DOE in supporting the U.S. LHC collaborations in this historic international effort," said Joseph Dehmer, physics division director of the National Science Foundation. "We also note with pride the excellent performance of the construction project, and we look forward to the period of scientific discovery that will result."
The ATLAS collaboration will now focus on commissioning the detector in preparation for the start-up of the LHC late this summer.