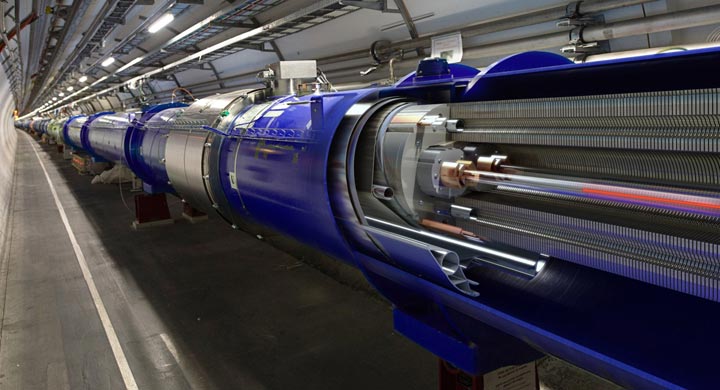 3D cut of the LHC dipole. Photo courtesy CERN
Recently, more than 230 scientists and engineers from around the world met at CERN to discuss the High-Luminosity LHC – a major upgrade to the Large Hadron Collider (LHC) that will increase the accelerator's discovery potential.
Luminosity is a crucial indicator of performance for an accelerator. It is proportional to the number of particles colliding within a defined amount of time. Since discoveries in particle physics rely on statistics, the greater the number of collisions, the more chances physicists have to see a particle or process that they have not seen before.
The High-Luminosity LHC will provide more accurate measurements of fundamental particles and enable physicists to observe rare processes that occur below the current sensitivity level of the LHC. With this upgrade, the LHC will continue to push the limits of human knowledge, enabling physicists to explore beyond the Standard Model and Brout-Englert-Higgs mechanism.
"The LHC already delivers proton collisions at the highest energy," said CERN Director General Rolf Heuer. "The High-Luminosity LHC expects to produce 10 times more collisions over 10 years than the current LHC will in its first decade, and will therefore increase our potential to make discoveries."
The increase in luminosity will mean physicists will be able to study new phenomena discovered by the LHC, such as the Higgs boson, in more detail. The High-Luminosity LHC will produce 15 million Higgs bosons per year compared to the 1.2 million in total created at the LHC between 2011 and 2012.
To learn more visit: www.bnl.gov/newsroom/news.php?a=11785