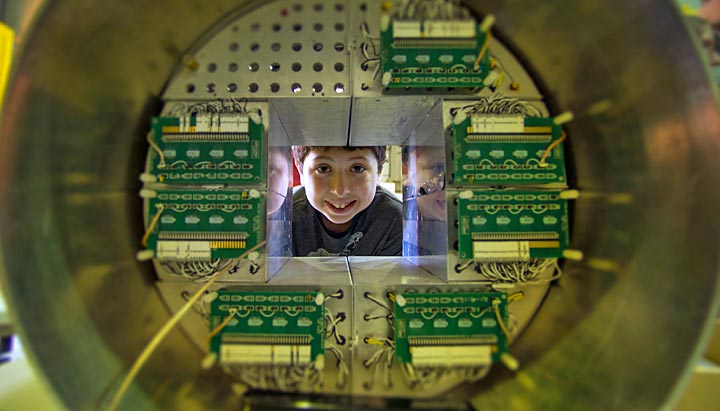 Brookhaven National Laboratory has been opening its doors to the public for more than 50 years. This year, our "Summer Sundays" open houses will feature several of our world-class research facilities – the National Synchrotron Light Source (NSLS) and NSLS-II, the Center for Functional Nanomaterials, and the Relativistic Heavy Ion Collider – as well as our Science Learning Center and the National Weather Service Office that shares our site.
Tour the NSLS – where scientists use beams of x-rays and other forms of light to study the inner workings of proteins, batteries, solar cells and more – on July 13. Also, see the new NSLS-II, which will be one of the world's most advanced light sources – a giant x-ray microscope! Explore exciting hands-on exhibits, master the synchrotron quiz, and win prizes. Be mesmerized by the "Science Laser Light Spectacular."
On July 20, visit the Center for Functional Nanomaterials, where Brookhaven scientists probe structures as tiny as a billionth of a meter. Stop by the "Nano-Discovery Zone" for hands-on activities, and watch the "Magic of Science" show in the Berkner Hall auditorium.
Family Fun Day will be held on July 27. Visit the Science Learning Center to experiment with magnets, mirrors, and more! Play a part in the "Super Scientific Circus" and be captivated by "Red's Recycle-O-Rama." Be sure to tour the National Weather Service where "Storm Trackers" forecast our weather and track storms across the New York metropolitan area.
Have "Atom-Smashing Fun" on August 3. Visit the Relativistic Heavy Ion Collider (RHIC), where scientists recreate the conditions of the universe as it is thought to have existed microseconds after the Big Bang. See particle detectors as big as a house! Try to stump a physicist and be enthralled by "Phenomenal Physics with Mr. Fish."
Free fun, no reservations required! It's always best to arrive early. Our gates open at 10 a.m. Science shows take place three times each Sunday in the Berkner Hall auditorium – Noon, 1:30 p.m., and 3 p.m. Just remember, visitors 16 and older must bring a photo ID.