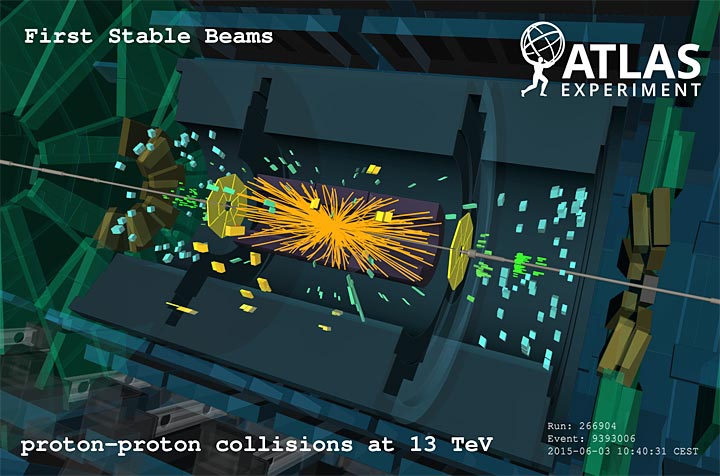 Display of a proton-proton collision event recorded by ATLAS on 3 June 2015, with the first LHC stable beams at a collision energy of 13 TeV. Image credit: CERN
Recently, scientists at the Large Hadron Collider at CERN started recording data from the highest-energy particle collisions ever achieved on Earth. This new proton collision data, the first recorded since 2012, will enable an international collaboration of researchers that includes more than 1,700 U.S. physicists to study the Higgs boson, search for dark matter, and develop a more complete understanding of the laws of nature.
"Together with collaborators from around the world, scientists from roughly 100 U.S. universities and laboratories are exploring a previously unreachable realm of nature," said James Siegrist, U.S. Department of Energy's Associate Director, Office of High Energy Physics. "We are very excited to be part of the international community that is pushing the boundaries of our knowledge of the universe."
The Large Hadron Collider (LHC), the world's largest and most powerful particle accelerator, reproduces conditions similar to those that existed immediately after the Big Bang. In 2012, during the LHC's first run, scientists discovered the Higgs boson—a fundamental particle that helps explain why certain elementary particles have mass.
Scientists will use this new LHC data to pin down properties of the Higgs boson and search for new physics and phenomena such as dark matter particles—an invisible form of matter that makes up 25 percent of the entire mass and energy of the universe. Physicists will also endeavor to answer questions like: Why is there more matter than antimatter? Why is the Higgs boson so light? Are there additional types of Higgs particles? What did matter look like immediately after the Big Bang?
In addition to serving as the U.S. host laboratory for the ATLAS experiment at the LHC, Brookhaven National Laboratory plays multiple roles in this international collaboration, from construction and project management to data storage, distribution, and analysis.
For more information about Brookhaven's role in research at ATLAS, visit: www.bnl.gov/atlas/