Congratulations to the 17-member Brookhaven Lab team that received a Secretary's Honor Award for Achievement from Energy Secretary Ernest Moniz last week. The team successfully completed two superconducting magnets that are now at CERN as backups for the Large Hadron Collider (LHC) – and the project was done on time and under budget with increased scope. Peter Wanderer, head of the Superconducting Magnet Division, led this project and the team included Michael Anerella, John Cozzolino, Walter Czekaj, John Escallier, Arup Ghosh, Ramesh Gupta, Henry Hocker, Piyush Joshi, Paul Kovach, Andrew Marone, Joseph Muratore, Steven Plate, Ronald Prwivo, and Jesse Schmalzle from the Lab; DOE Brookhaven Site Office Federal Project Director Robert Caradonna; and DOE Office of High Energy Physics Federal Project Manager Bruce Strauss.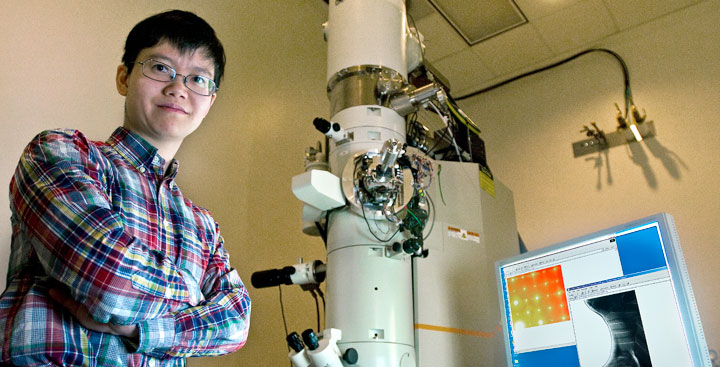 Physicist Jing Tao with one of Brookhaven's transmission electron microscopes.
Congratulations also to Brookhaven Lab physicist Jing Tao, from the Condensed Matter Physics and Materials Science Department, who was one of 44 scientists selected by DOE's Office of Science to receive significant funding for research as part of DOE's Early Career Research Program. Jing will receive $2.5 million over five years for her work exploring the subtle interactions among a particle's or system's quantum properties, such as its spin, charge and orbital degrees of freedom. She and her colleagues will carry out this research using Brookhaven Lab's ultrafast electron diffraction instrument to excite custom-designed, complex materials and then probe them with an intense beam of electrons.
Sergey Belomestnykh.
On May 7, Sergey Belomestnykh received the Particle Accelerator Science and Technology Award from the Institute of Electrical and Electronics Engineers Nuclear Plasma Sciences Society. Sergey works in the Collider-Accelerator Department, leading the Superconducting Radio Frequency Group. The group develops components that use radio waves to push particles close to the speed of light in accelerators, including the Relativistic Heavy Ion Collider and LHC, as well as a possible future electron-ion collider.