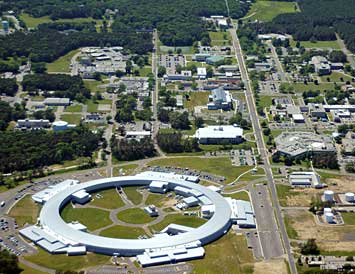 Larry Hoff swung up on his bike and started pedaling the 13 miles from his home in Patchogue to Brookhaven Lab. It was Summer Sunday, July 21, 2013, and Hoff was one of more than 90 volunteers who had signed up to handle visitors coming to see the National Synchrotron Light Source (NSLS) and NSLS-II.
These volunteers – Photon Sciences staff members, NSLS users, family members and friends – made this Summer Sunday a great experience for a record crowd of 1,334 visitors eager to see the Lab's light sources. The day's offerings included three tours, nine interactive displays and talks on science and the business of doing science.
Volunteer Lonny Berman started at the NSLS-II display and tour, was pulled into NSLS to guide tours around the experimental floor, did an impromptu shift at the "Color Cauldrons" display, and even escorted visitors late in the day into the NSLS-II storage ring to see magnet girders. In contrast to her dad, volunteer Evonne Berman was rooted to "Crystal-icious" all day, surrounded by mounds of spice drops, toothpicks and crowds of children eager to construct edible crystals.

Another volunteer at that display was six-year-old Isabella Leighley. She considered herself lucky, though, to switch assignments in the afternoon to "Water Rockets." Display manager Marty Woodle tasked Isabella with pulling the string to launch the rockets, made of plastic bottles half filled with water and pressurized with air. When one super-charged rocket landed on the roof of the Center for Functional Nanomaterials, she screamed, "My rocket hit the building!"
Chelsea Whyte escorted video journalist Waldo Cabrera, on assignment for Verizon Fios1, and introduced him to her fellow volunteers Juergen Thieme, Bill Leonhardt, Paul Gelfand, Lisa Miller and Karen Chen-Wiegart. Watch Cabrera's five-minute clip.
At NSLS beamline X6A, Vivian Stojanoff sported a tie-dyed lab coat alongside her summer student, Michelle Cerniglia, who was wearing the official volunteer shirt in a singular blue. Visitor Andrea Spurell-Robinson, a middle school teacher in Virginia, noticed right away that the colors of the lab coat were echoed on the slide she peered at under a microscope, set up at the beamline to magnify protein crystals (the colors were created by light diffracting off a slick of oil on the crystals). Spurell-Robinson was eager to get a picture of herself with Stojanoff to use in a science unit on DNA in school, and her husband, Todd Robinson, happily clicked with a cell phone camera.

Local visitor Mary White, from Center Moriches, caught a different view of the NSLS-II lobby sign, transforming it into a wrought iron rail with a high-tech twist.
Huffington Post science blogger Zoe Strassfield was also among the visitors and posted this piece titled "Rays of Light."
Here is a collection of comments from other visitors:
"Loved the lab. Experiments at NSLSII especially good for kids!"
"Ignace Jarrige was very helpful & informative. Thank you."
"They protect the light source materials w/ tin foil."
"The water rocket – I will look up to make."
"Most interesting? Synchrotron storage ring visit."
Thanks to all the volunteers who helped make the day a special one for visitors. As Hoff snapped on his helmet for the return ride home, a route he takes almost every workday, he admitted to being a bit hoarse but, sounding just like a happy visitor, said he had fun and would certainly come back next year.
Volunteers at the 2013 Summer Sunday
| | | |
| --- | --- | --- |
| Alvin Acerbo* | Tim Alston | Klaus Attenkofer* |
| Chris Awad | Lucian Babich | Steve Bennett |
| Evonne Berman | Lonny Berman | Andrew Broadbent* |
| Charlotte Broadbent | Mike Bromfield | Larry Carr |
| Karen Chen | Michelle Cerniglia | Gretchen Cisco |
| Joseph Dahdal | Abhi Das | Philip DeCaro |
| Natalie Delpratt* | David Dudley | Jason Dudley |
| Arezu Esmaili | Marty Fallier* | Larry Fareria |
| Ray Fliller | Charles Gardner | Paul Gelfand* |
| Animesh Ghose | Sanjit Ghose | Liz Glossza |
| Kazimierz Gofron | Vito Graziano* | Chris Guerrero |
| Diane Hatton | Larry Hoff | Ron Hotchkin |
| Steve Hulbert | Aftab Hussain | Ignace Jarrige |
| Steven Jarzabkowski* | Olanrewaju Johnson | Jean Jordan-Sweet |
| Barry Karlin | Syed Khalid | Daniel Lange |
| Mark Lange* | Deborah Lange | Wah-Keat Lee |
| Isabella Leighley | Tabatha Leighley* | Bill Leonhardt* |
| Wayne Lewis | Jerry Malley | John McCaffrey |
| Corinne Messana | Lisa Miller* | Barbara Moebes* |
| Kristen Mohabeer | Eileen Morello | Robert Petkus |
| Kun Qian | Ray Raynis | Mona Rowe |
| Abdul Rumaiz | Chris Samuel | Cecilia Sanchez Hanke |
| Mike Santana | Bruno Semon | Boyzie Singh |
| John Sinsheimer | Maria Sirenko* | Jami Smiles |
| Jean Smiles | Randy Smith* | Lori Stiegler |
| Vivian Stojanoff | Ryan Tappero | Juergen Thieme* |
| Tiffany Victor | Guimei Wang* | Hengzi Wang |
| Gary Weiner | Chelsea Whyte | King Wilson |
| Marty Woodle* | Nancye Wright | Andrey Yakovenko |
| Lin Yang | Xi Yang | Xiaoxiang Xi |
| Weihe Xu | Jennifer Zhong | Zhong Zhong* |
*Display managers