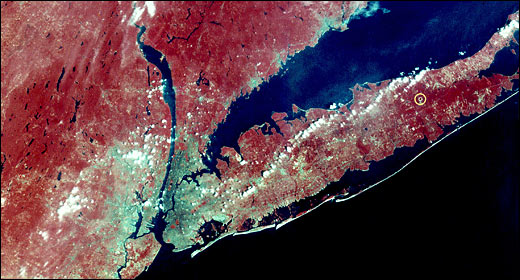 Satellite View of Long Island (circle pinpoints Brookhaven Lab)
According to a report issued this spring by Appleseed, a Manhattan-based consulting firm, Brookhaven National Laboratory has a significant impact on the economy of Long Island and New York State.
From October 1, 2008 through September 30, 2009, the economic output generated by BNL and its visitors amounted to $704 million, and the Lab created 5,400 jobs throughout New York State—5,190 of them on Long Island. Supporting local and state businesses whenever possible, the Lab also spent $212 million on purchases of goods and services. $75.2 million of this total was spent in New York State including $62.7 million spent on Long Island.
Read the full report online at http://www.bnl.gov/economic/ or request a print copy by calling (631) 344-3129.