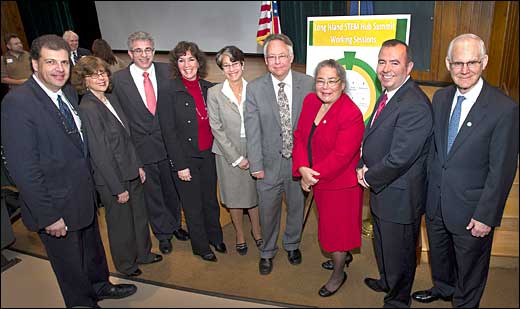 STEM Hub partners attend the Long Island STEM Hub Summit at Farmingdale State College
The newest initiative from the Office of Educational Programs is the Long Island STEM Hub. In partnership with the Long Island Museum of Science and Technology, the Long Island Works Coalition, the Long Island Cradle of Aviation Museum, and many others, this program focuses on preparing students to become part of the Island's high-tech workforce through enhanced science, technology, engineering, and mathematics (STEM) experiences.
One of ten such programs forming in the Empire State STEM Learning Network, the Long Island STEM Hub will develop resources for local businesses, school districts, students, parents, teachers, universities, and worker-training operations to address STEM workforce needs in the region. The Hub will support the coordination of local resources to provide enhanced STEM learning opportunities and real-world STEM work experience training for students, teachers, and unemployed/underemployed or displaced workers, with the end goal of significantly boosting the Island's technical workforce. To learn more, visit http://www.bnl.gov/stemhub/.