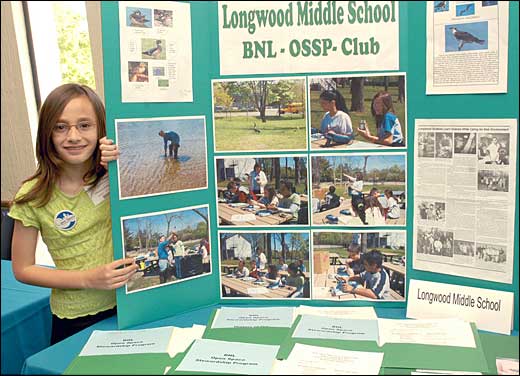 Student display at the OSSP celebration
Brookhaven's Open Space Stewardship Program (OSSP), which began in January 2006, cultivates partnerships between schools and land stewards in local communities. Students in grades K through 12 are involved in authentic environmental research on properties in their own communities, fostering a sense of ownership and responsibility for open space within their neighborhoods.
OSSP now has students from 35 Suffolk County schools participating. The program is designed to achieve goals that include benefiting land stewards in the management of their property, helping students learn about the scientific process through working with real-life data in the field, promoting scientific literacy, and encouraging students to consider careers in science and technology.
Each June, students and teachers who participate in the program are invited to the Laboratory for an OSSP evening celebration at which students display and present their work to teachers, parents, scientists, and others in the environmental community.