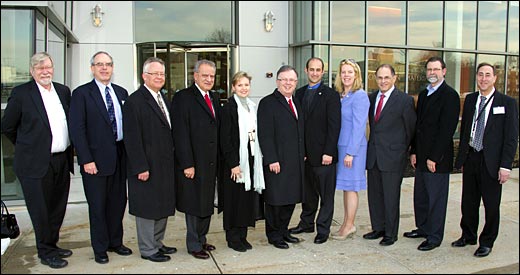 In addition to running world-class research programs, hosting big science machines, and engaging students in educational endeavors, Brookhaven Lab also offers cultural programs and opportunities to the community to visit our facilities. More than 40,000 students and teachers visited the Lab last year through the Office of Educational Programs, and several thousand more visitors attended "Summer Sundays" or participated in a group tour, both programs organized by the Community Relations Office.
"Summer Sundays" take place on several Sundays during July and August with science programs and events for the entire family. Our 2012 open houses will take place each Sunday from July 15 through August 5.
Additionally, group tours of the Lab's science facilities are often arranged through the Community Relations Office for groups of 10 or more. Most recently, Suffolk County Legislators were invited to visit BNL to learn more about our economic impact on Long Island, our latest energy research, and our educational initiatives. The local representatives heard presentations on the BNL/Stony Brook University Smarter Grid Research, Innovation, Development, Demonstration, Deployment Center and the Long Island STEM Hub. The Center will bring information, communication, and technologies together to address energy challenges; the STEM Hub is a new program promoting science, technology, engineering and mathematics education to help build Long Island's workforce. After the presentations, the Legislators toured the Long Island Solar Farm, the first utility-scale PV system in the northeast.
To learn more about the programs available for the community check out the listings under Happenings, or visit www.bnl.gov/community.