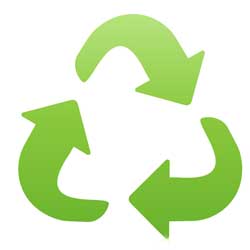 Recycle!
Every ton of glass recycled saves nine gallons of fuel oil needed to make glass from virgin materials.
Turn out the Lights!
Turn lights off whenever you leave a room or work area and don't forget to turn off your computer at night.
Run Eco-friendly Meetings
Use paperless technology, publish materials on recycled paper, bring your own travel mugs and refillable water bottles, recycle name badge covers, save energy by turning out the lights and air conditioning when rooms are not in use and spread the word!
Buy Green Supplies!
Purchase products made from recycled materials or with high recyclable content. Buy recycled paper and reconditioned toner cartridges for your printer. Look for products with the least packaging.
Walk or Bike!
Whenever possible consider walking or biking to nearby meetings and always combine errands to reduce trips. You will save gas, wear and tear on your vehicle, and reduce air emissions.
Go Paperless!
Scan and distribute electronic copies of reports and letters and cut your paper use in half by creating double-sided prints