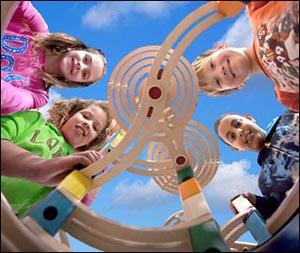 Brookhaven National Laboratory has been opening its doors up to the public for more than 50 years. First calling them Visitors' Days, BNL has invited the community in to learn about our cutting-edge science and operations and visit our facilities since the 1950s. Today, Summer Sundays feature talks by researchers, hands-on activities, science shows, and more.
In 1958, visitors were treated to a game of "Tennis for Two," an electronic tennis game created by a nuclear physicist that was designed to entertain visitors on their tour of the Lab's Instrumentation Division. Little did they know at the time that they were experiencing one of the world's first video games!
In 1975, some 13,000 guests attended Visitors' Day. While we don't expect that many to be on-hand for our Summer Sundays tours, it's always best to arrive early. Our gates open at 10 a.m.
No reservations needed, all activities are free! Just remember, visitors 16 and older must bring a photo ID.