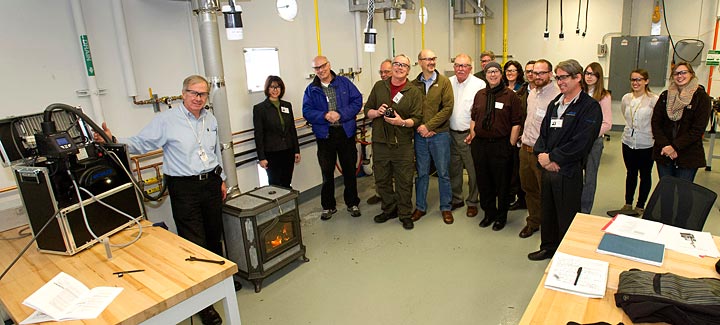 Examining new emissions-testing equipment
In 2012, the Alliance for Green Heat issued a Next Generation Wood Stove Design Challenge that seeks to promote innovation in wood stoves. The design finalists will bring their stoves to the National Mall in Washington D.C. in November, 2013 to participate in a Wood Stove Decathlon.
Recently, Brookhaven's Sustainable Energy Technologies Department hosted a gathering of the individuals who will serve as judges for the Decathlon. Eight members of the Wood Stove Design Challenge team met at the Lab over two days to review innovative designs and to examine new wood appliance testing equipment that will likely be used to judge the entries.
"Wood use for home heating is increasing and is becoming a major source of fine particle air pollution in the Northeast," said Tom Butcher, head of the Lab's Energy Conversion Group and a Decathlon judge. "This event will highlight advanced technologies that can help address this problem and enable continued use of this renewable fuel."