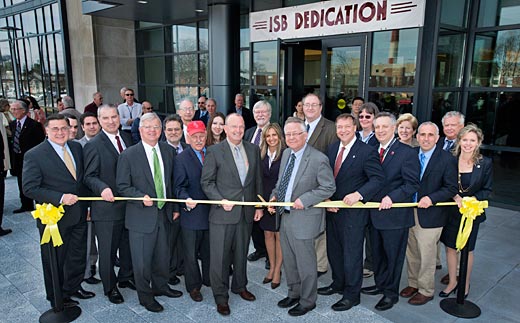 The Interdisciplinary Science Building (ISB), BNL's recently opened hub for energy research, will provide customized laboratories for multidisciplinary research teams working to tackle the nation's most pressing energy and environmental challenges. Scientists will engineer and optimize materials with the goal of developing breakthrough technologies for batteries, biofuels, and solar panels.
The 87,700 square foot building contains offices, 60 standard laboratories, and 4 specialty labs with unique features. The labs include a humidity-controlled dry room, where researchers can safely assemble and test new lithium-ion batteries, and two ultra-low vibration laboratories housing the new Mirage Spectroscopic Imaging Scanning Tunneling Microscope used to explore materials' electronic structure at the atomic scale. A lab customized for molecular beam epitaxy (MBE), a process researchers use to fabricate new materials a single atomic layer at a time, is connected directly to one of the ultra-low vibration labs via a vacuum-locked system. This allows scientists to transport MBE-created samples directly to the microscope without exposing them to air, which can diminish sought-after properties.
Sustainable design and energy efficiency influenced construction of the ISB. Compared to benchmark studies, the ISB design reduces use of potable water by 55 percent and energy consumption by 37 percent, contributing toward an overall cost savings of 29 percent.
In addition to energy-cost-saving strategies such as heat recovery, and high-efficiency lighting systems and laboratory equipment, the sustainable LEED-designed facility was built with certified environmentally-sustainable wood, recycled materials, and materials from vendors within the region to reduce the building's overall carbon footprint by minimizing the distance materials traveled to the site.
The total cost for the project was $66.8 million, most of which was provided by the U.S. Department of Energy's Office of Science. The Lab also received an initial investment of $18.6 million in 2009 from the American Recovery and Reinvestment Act that accelerated construction of the facility.