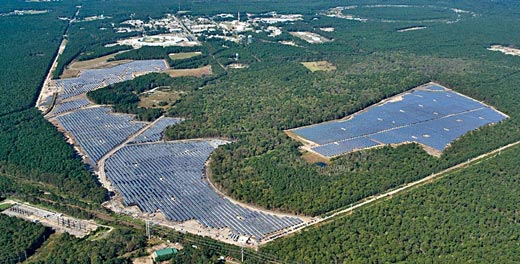 The 200-acre Long Island Solar Farm (LISF) is located at the east end of Brookhaven Lab.
Bring on the sunshine! April showers are behind us and the sun is shining a little longer each day in the Northern Hemisphere. That means the 200-acre Long Island Solar Farm at Brookhaven is producing increasing amounts of renewable energy for Long Islanders—and data for our researchers.
The LISF, located at the east end of the Lab site, is the largest array in the Eastern U.S. and contains 164,312 photovoltaic panels. The Solar Farm can produce peak power output of 32 megawatts (MW) of alternating current to power homes and businesses. Operations began in November 2011, and during its first 12 months, LISF produced a total of about 54,000 megawatt-hours (MW-h) of energy. That's 23 percent more than the design estimates of 44,000 MW-h.
As power is produced at the Solar Farm, researchers collect large amounts of data that stream in from sensors and imagers installed across the array. The data include measurements for the amount of sunlight illuminating the array; the electrical output at each of the 25 inverter stations, where the sun's direct current is converted to the alternating current that we all use; and the positions of clouds as they drift across the sky, altering the amount of sunlight that reaches the panels and the associated power they produce.
Brookhaven now has datasets to forecast the Solar Farm's near-term output, ranging from seconds and minutes to as far out as one hour. While developing models to forecast output 24 hours out is still a big challenge, researchers at the Lab are working with the National Center for Atmospheric Research to develop advanced forecasting models and techniques through a recently awarded Department of Energy grant.
To learn more about the Long Island Solar Farm, read the full story by Brookhaven's Pat Looney.