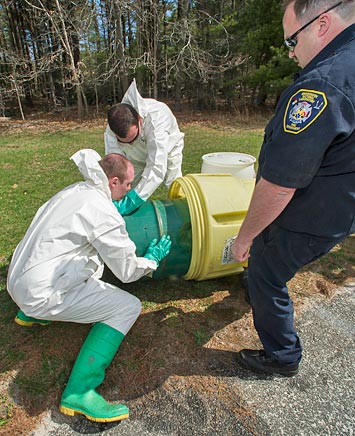 Students perform "hands-on" simulation training by placing a container of unknown liquid inside a drum where it will stay until it can be assessed and appropriately discarded.
Brookhaven Lab's Fire-Rescue Group recently hosted nearly 50 students from Suffolk County Community College who are taking courses toward certification in hazardous materials handling. The students came to the Lab to participate in a hands-on, simulated "hazmat" field training exercise.
The training scenario they participated in dealt with the challenges of securing a 55-gallon drum leaking an unknown, and possibly hazardous, liquid.
After the firefighters demonstrated the use of the Lab's specialized equipment for potential hazmat incidents, the students donned Tyvek suits, boots, gloves, and other required personal protective safety gear for the simulated training. The students were also trained on the use of a thermal imaging camera, which helps determine the amount of liquid in the drum before making a decision on next steps.
For this training session, the leaking 55-gallon drum was placed inside an 85-gallon container, where—if it were a real scenario—it would remain until it could be assessed, properly transported, and disposed of by appropriate authorities. The Lab's Deputy Fire Chief, Timothy Kelly, who led the exercise, said "Every BNL firefighter is a certified hazardous materials technician. We were happy to share our knowledge and expertise with the next generation of emergency responders who are working to get certified in this very important field."