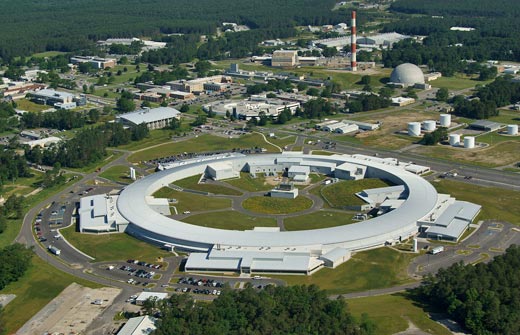 As it nears completion, BNL's state-of-the-art National Synchrotron Light Source II (NSLS-II) and the firms that designed and built it – HDR Architecture, Inc. and general contractor TORCON, Inc. – have received several awards recognizing its design and construction.
In addition to receiving Leadership in Energy and Environmental Design (LEED) Gold certification by the U.S. Green Building Council in March, NSLS-II has been awarded with:
Grand Award, 2013
National Chapter of the American Council of Engineering Companies
Diamond Award, 2013
American Council of Engineering Companies of New York
Building of the Year Award, 2013
American Society of Civil Engineers, Long Island Branch
Owner-Managed Project of the Year, 2013
Construction Management Association of America, New York/New Jersey Chapter
NSLS-II, under construction since 2009, is the largest domestic capital project for the U.S. Department of Energy's Office of Science. The project created nearly 1,250 construction jobs and the completed facility will provide some 450 scientific, engineering, and support jobs. Purchases totaled $130 million in labor and $135 million in materials. NSLS-II is scheduled to begin operating in 2015.