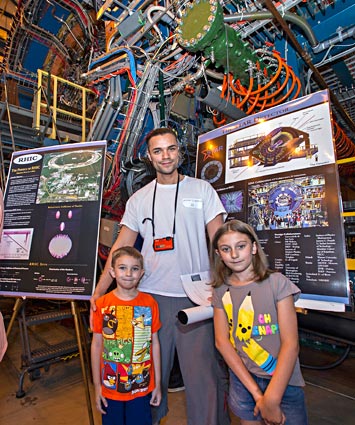 Summer Sundays included tours of the Relativistic Heavy Ion Collider, including the massive STAR detector.
Summer Sundays 2013 has just wrapped up with more than 6,100 of our neighbors, from near and far, visiting the Lab to learn about our cutting-edge science and tour our world-class science facilities. The 2013 program was staffed by more than 300 volunteer scientists, employees, facility users, summer interns, and Department of Energy representatives who welcomed record numbers of visitors and helped make their experience inspirational.
The facilities visited over four consecutive Sundays included our Science Learning Center and the Fire House, the Center for Functional Nanomaterials, the National Synchrotron Light Sources I and II, and the Relativistic Heavy Ion Collider (RHIC). Visitors were treated to hands-on demonstrations and chatted with researchers about their work at the facilities.
In Berkner Hall, Einstein came alive, the laser lights were spectacular, and visitors young and old alike were delighted by the Magic of Energy and the Fabulous Physics of Mr. Fish. Along with attending the science shows, guests listened to talks on climate change, nanotechnology, the science of RHIC, and were updated on the ATLAS project at the Large Hadron Collider.