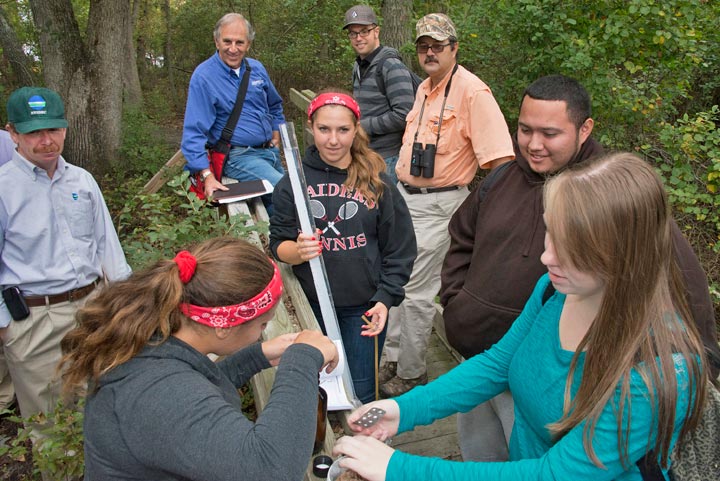 Students check water samples from the river
Recently, schoolchildren and teachers from the Bellport, Longwood, Patchogue-Medford, Rocky Point, and William Floyd High Schools and from Nathaniel Woodhull Elementary School participated in the second annual "Day in the Life of the Carmans River" workshop.
At the workshop, which was sponsored by Brookhaven Lab, the Central Pine Barrens Joint Planning and Policy Commission, and the New York State Department of Environmental Conservation, local experts coached the students and showed them the different ways they study the river to protect it while determining how its ecosystem changes.
The students caught and counted fish, collected and analyzed water samples, and identified invasive plant species in the Carmans River, which flows from Middle Island to the Great South Bay. They measured their water samples for salt content and clarity and studied erosion and fish breeding patterns. The data collected will be compared to last year's information to determine how Superstorm Sandy may have affected the river.
"Bringing young people out to breath the fresh air, see the wildlife, and determine how this ecosystem changes is one of the best ways to help develop future scientists and informed, responsible citizens who care for the environment," said Mel Morris of the Lab's Office of Education Programs. Morris helped organize the event and also founded and oversees the Lab's Open Space Stewardship Program, which was designed to help local land stewards manage their properties with students who, as "citizen scientists," learn about the scientific process while going out into the field to collect useful data.
To learn more about our Education Programs visit: http://www.bnl.gov/education/