Brookhaven National Laboratory and DOE's Office of Energy Efficiency & Renewable Energy (EERE) recently facilitated a memorandum of understanding between the cities of Atlanta, GA, and Ahmedabad in India, initiating a first-ever US-India cities partnership to share best practices in sustainable development, energy and environment. Under this program, other Indian cities such as Delhi, Mumbai, Chennai, Bangalore, Bhubaneswar and Vadodara will partner with U.S. cities including Chicago, Denver, Columbus, Los Angeles, and San Francisco.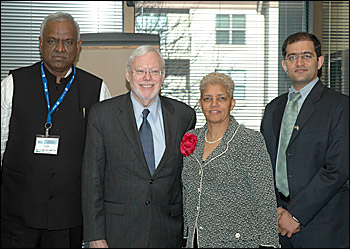 At Atlanta City Hall after the March 2008 signing of an agreement for sharing best practices on energy and environment are: (from left) Ahmedabad Mayor Amit Shah, DOE's Mark Ginsberg, Atlanta Mayor Shirley Franklin and BNL's Vatsal Bhatt.
Brookhaven's Vatsal Bhatt of the Energy Sciences & Technology Department and DOE EERE's Mark Ginsberg started the discussions on energy and environment between the cities, facilitated the partnership and provided technical assistance on various aspects of the collaboration.
"This grand experiment linking U.S. and Indian cities for energy, environment and good governance, will bring a win-win situation for all partners in promoting energy security and environmental sustainability," said Ginsberg. "More than half the world's population is now urban, and, according to the United Nations, about 90 percent of future growth will take place in cities," Bhatt said. "It is vital to focus research and collaboration on pressing urban issues like energy and environmental quality, since city activities are responsible for nearly 75 percent of world greenhouse gas emissions."
At the Lab, Bhatt works on studying climate change impacts and mitigation and long-term energy planning for DOE. Recent national and international debates on energy, environment and climate change have highlighted the importance of involving rapidly growing developing countries in sustainable energy, environment and development practices. To further this agenda, the U.S. government has shown great interest in collaborating with India, evidenced by the recent US-India Energy Dialogue, the US Clean Energy Trade Missions, the Asia-Pacific Partnership on Clean Development and Climate, and other initiatives.
Atlanta, Georgia
"In the absence of a comprehensive national or state policy, cities can pioneer groundbreaking policies, as evident from various national and international cities climate change initiatives," said Bhatt. For example, 830 U.S. mayors have already signed the U.S. Mayor's Climate Agreement. Before coming to Brookhaven, Bhatt worked in India on energy and climate change policies. With the understanding of U.S., Indian and world energy issues, he thought that rapidly growing Indian cities, which will be home to nearly 40 percent of Indians by 2021, would benefit from the US-India Cities partnership for sharing best practices in furthering the use of sustainable energy and environmental practices and technologies.
"DOE saw significant potential in such collaboration between cities of two burgeoning democracies, and this project was initiated in September 2007," Bhatt said.
Brookhaven organized a videoconference in January 2008, where the U.S. cities of Chicago, Denver and Atlanta and the Indian cities of Delhi, Chennai and Ahmedabad highlighted their best practices in energy and environment. About 600 participants watched the video conference, including approximately 40 mayors and 35 city managers from other Indian cities.
The Ahmedabad/Atlanta partnership gathered momentum after Atlanta Mayor Shirley Franklin visited Ahmedabad in February to support activities of CARE International - a humanitarian organization working with women for social and economic uplifting. She invited Mayor Amit Shah of Ahmedabad to attend a conference on Greener Cities in Atlanta in March.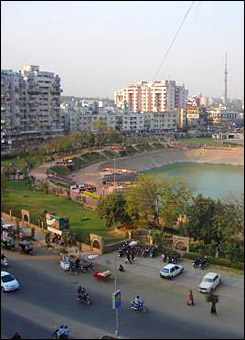 Ahmedabad, India
The two mayors signed the initial US-India cities memorandum of understanding in March at Atlanta City Hall. Following the signing, Atlanta and Ahmedabad city delegations met to discuss mutual interests in energy and environment and to identify short- and long-term actions they wish to take. Follow-up discussions will take place every quarter.
In addition to the recent Atlanta-Ahmedabad agreement, partnerships between cities like Chicago and Delhi, Denver and Chennai and Columbus and Ahmedabad have initiated dialogues involving city officials and agencies, businesses, professionals, citizens and research and academic institutions. The partnerships will focus on programs such as: green buildings, renewable power; alternative fuel vehicles, recycling, water supply and sanitation, and green government purchasing and business promotion.
"Participating cities have been selected by their specific links based on the Sister Cities partnership that promotes economic development, education, media and cultural exchange," says Bhatt. "Existing city partnerships will be expanded to include energy and environment. The goal is to initiate a working mechanism for urban stakeholders to exchange mutually beneficial activities."