actwivism
illtwitterate
twam
tweet
Welcome to Twitter. This is a world that NSLS Operations has taken the initiative to enter, all to improve communications with NSLS users. Although Twitter is a social networking site, NSLS Ops has set up a Twitter account as a means of delivering timely information on machine status to their customers.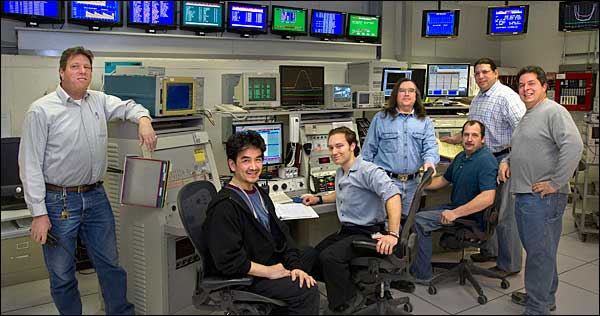 In the NSLS Control Room, from left to right: John Klug (Operations Coordinator), Billy Jew (Operations Coordinator), Rob Rainer (Operations Coordinator), Ed Zeitler (Machine Operator), Phil Marino (Operations Coordinator and Machine Operator), Gary Weiner (Machine Operator), Mike Santana (Machine Operator). Missing from the photo: George Jahnes (Machine Operator), Lenny Pharr (Operations Coordinator), Pete Ratzke (Operations Coordinator), Charles Gardner (Operations Coordinator), Ray Raynis (Operations Coordinator).
"It's easy, fast, free and accessible to anyone," said Ed Zeitler, Control Room Operator.
Twitter will also "push" up-to-the-minute info out to the users so that they can make adjustments to their experimental schedules right way, noted Gary Weiner, Control Room Operator. For example, users will get notices of emergency repairs or be alerted to a change in operational mode of the X-Ray or VUV rings.
Here are other advantages:
If individual users already have a Twitter account, they can just type in "nslsops" in the search box, click on "NSLS Operations" and click "follow" to sign up.
You do not have to subscribe to the Twitter feed. Just go to (or bookmark) http://twitter.com/nslsops to read the postings. You can also go to "twitter search" and type in "nslsops" in the box that appears.
Twitter creates a history of status updates that can easily be checked.
If you have a Twitter account, you can allow Twitter to send you automatic text messages every time the feed is updated. On your own Twitter page, click on the "person" icon at the top, chose "Settings" below and then "Mobile" in the left column. Check off what you want and save your changes. (Zeitler says Twitter has an app that makes this easier, but Lab-issued Blackberries are blocked from downloading it. This is a workaround.)
Because tweets (Twitter messages) are limited to no more than 140 characters, brevity is guaranteed!
Both Zeitler and Weiner came up independently with the idea of using Twitter, although Gary credits Ed as being first to do so and Ed credits Gary for following through to set up the account.
The "@NSLSOps" account went live with a test message from Weiner on January 23, 2011, to just himself in the vastness of digital space. Since then, with no publicity until now, the account has steadily gained followers. Balaji Raghothamachar, a user from Stony Brook University, signed up because he saw the service offered on the NSLS machine status page.
The NSLS Control Room encourages active users to sign up. You will never receive twam (tweet spam) from the operators, who know better than to engage in actwivism (using a Twitter message to advocate or oppose a political, social, or environmental cause). And if you do subscribe to this Twitter account, perhaps your first use of Twitter, you can't be accused of being illtwitterate (someone who "doesn't get it").
If you need help or have questions, send an email to Weiner.