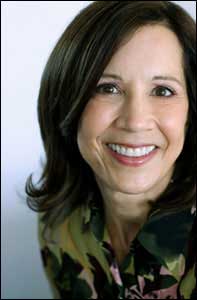 Gina Kolata
Spring is here and the Annual 2012 Joint NSLS/CFN Users' Meeting is right around the corner (May 21 – 23)! The theme of this year's meeting, "Expanding the Toolbox for 21st Century Science," will highlight the new tools and new science at NSLS and the CFN as well as those planned for NSLS-II.
The program includes invited talks, workshops, a poster session, and exhibits showcasing new technology and instrumentation – all offering opportunities to learn about the latest developments in synchrotron and nanoscience experimentation that can impact your own research.
A special session will be held in the afternoon of Monday, May 21 to host a significant discussion on planning for the transition period following the shutdown of NSLS. All NSLS (and prospective NSLS-II) users are strongly encouraged to plan on attending this session.
We are extremely pleased to announce that our keynote speaker will be Gina Kolata, bestselling author and award-winning senior writer for science and medicine for The New York Times. Gina has traveled around the country lecturing at universities and medical schools about a variety of scientific topics, demystifying scientific and personal health issues for the general public and passing on her considerable knowledge of science writing and communication.
The Users' Meeting banquet this year will be held inside NSLS-II, allowing users to take a look at the progress on the new facility while enjoying the general merrymaking associated with this event. Posters describing the NSLS-II beamlines are expected to be included in the party decorations.
Both Monday and Tuesday morning Plenary Sessions as well as the Monday afternoon transition forum are open to the public free of charge.
Registration for the meeting is now open, so please visit the meeting website and take a look at all the exciting events we have planned for this year!
Special note: This year, post docs will be allowed to register at student pricing. This pricing has been implemented on a trial basis and is meant to encourage post-doc participation. PIs: Please take this opportunity to send your students and post docs to the Users' Meeting!
— Jen Bohon, Vice Chair, Users' Executive Committee