Applications of Radioisotopes Produced at BLIP
Targeted cancer therapy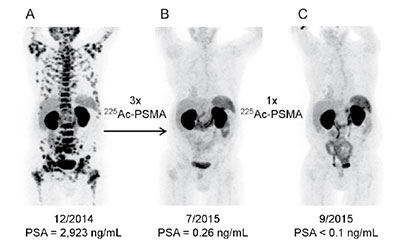 ©SNMMI: C. Kratochwil. J. Nucl. Med., 2016; 57 (12); 1941
Before and after images show how a molecule labeled with the radioisotope Actinium-225 delivers cell-killing alpha particles directly to tumors eradicating metastatic prostate cancer.
Diagnosing heart disease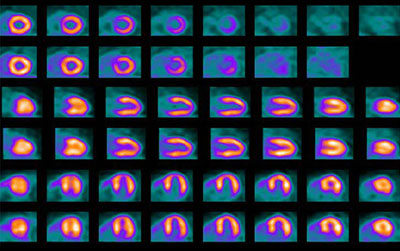 Washington University School of Medicine
Strontium-82 is used to generate a Rubidium-82 radiotracer that reveals reduced blood flow in heart muscle under stress. This precision scanning points physicians to coronary arteries that need treatment.
Tracking cancer treatment
A. Morgenstern, European Commission, Joint Research Centre
Germanium-68 generates Gallium-68, a radiotracer used to monitor how multiple liver lesions (bright spots in "before" image) respond to cancer treatment.
BLIP Raster Accelerator Components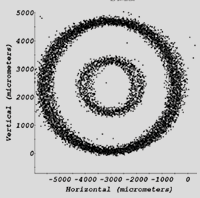 The BLIP raster system consists of a series of magnets and beam monitoring devices that steer the accelerated proton beam in a circular fashion as it enters the target area. This circular "rastering" sweeps the beam at a radius of 12.5 millimeters for 4 consecutive 450-microsecond pulses (making 2.25 rotations per pulse), followed by a sweep at a radius of 5.5 millimeters for one pulse, repeating this pattern continuously. The circular movement provides an even distribution of beam on the BLIP target by spreading out the power density. "Painting" the targets in this way extends their lifetimes and allows BLIP to operate at higher beam current to increase production of desired radioisotopes.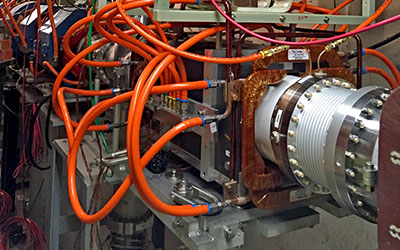 (a) A raster magnet installed in the beamline directs the proton beam to "paint" targets downstream.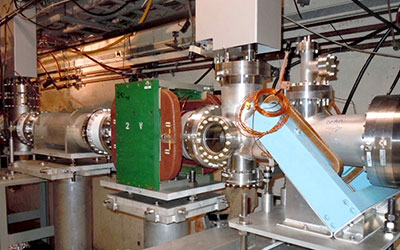 (b) This section houses a vertical steering magnet and equipment to monitor beam intensity, shape, and position.
(c) Beam position monitors track the beam as it travels through this transfer line into the target area.