The construction and testing of model bridges promotes the study and application of principles of physics and engineering and it also helps students develop "hands on" skills. Through participating, students get a flavor of what it is to be an engineer, designing structures to a set of specs and then seeing them perform their function.
Audience for This Competition
This competition is suitable for High School students and teachers interested in mathematics, physics, research, and engineering.
Rules & Eligibility Criteria
High school students from Suffolk and Nassau counties, Long Island, NY.
Videos
2018 Bridge Building Participants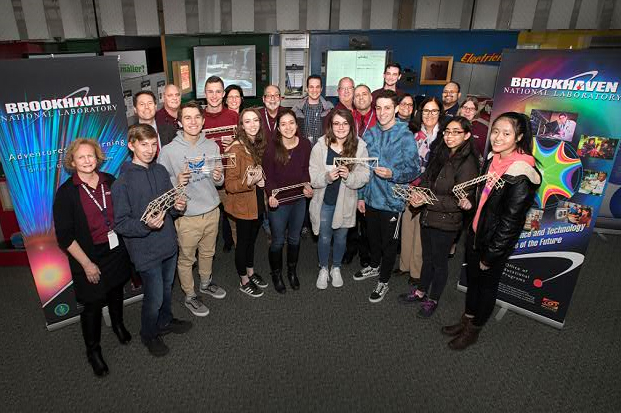 High School students from Long Island compete to take part in a national competition!
Where to Meet
All participants attending the competition, teacher information workshop, and bridge qualifications will meet at the Science Learning Center (Bldg. 935), located on Renaissance Road. Directions (https://www.bnl.gov/maps/935map.php)
Awards
There will be prizes for 1st, 2nd, and 3rd place as well as an aesthetic award for bridge design.
1st and 2nd place bridges will be mailed to the International Bridge Competition by the Brookhaven Science Associates LLC to participate in the competition held in a new location every year.
Information for Teachers
December Teacher Workshop: In addition to the competition, we offer an informational workshop for teachers on December 6, 2018, 5:30 PM-6:30 PM.
This workshop will include a review of the specifications, tips and tricks for better bridge building, and a question and answer session with the BNL engineers that judge the competition.
If you are interested in attending this workshop, please send a request to Susan Frank (sfrank@bnl.gov) by December 1, 2018 to participate.