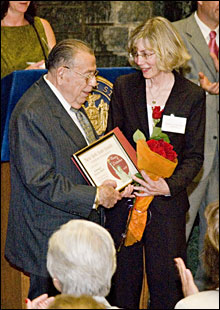 Senator Caesar Trunzo presents Joanna Fowler with a New York State Senate Woman of Distinction Award. (Click image to download hi-res version.)
UPTON, NY - Joanna Fowler, Director of the Center for Translational Neuroimaging at the U.S. Department of Energy's Brookhaven National Laboratory, has been honored with a 2006 New York State Senate Woman of Distinction Award. Senator Caesar Trunzo (3rd Senate District, Brentwood) presented the award plaque to Fowler at a ceremony in Albany. The award honors her for personal and professional contributions to her local, state and global communities.
"I am proud to honor Dr. Fowler as a Woman of Distinction, and prouder still of the recognition she has earned from her neighbors, colleagues and friends," said Senator Trunzo. "Her selfless dedication to science, education and health are an inspiration for the entire community."
The Senate's "Woman of Distinction" program was created in 1998 to honor New York women who exemplify personal excellence, or whose professional achievements, acts of courage, selflessness, integrity or perseverance serve as an example to all New Yorkers.
"I am honored to receive this recognition from New York State," Fowler said. "With support from the Department of Energy and our state-of-the-art imaging facilities at Brookhaven Lab, our group has been able to develop many new scientific and clinical tools to help in understanding and diagnosing numerous diseases. Most recently, we have focused on the mechanisms of addiction, a brain disease that is devastating for families and society."
Joanna Fowler has been a major contributor to brain research and the study of diseases such as addiction and cancer, which she has investigated using an imaging technique called positron emission tomography (PET). In 1976, Fowler and her colleagues synthesized 18F-fluorodeoxyglucose (FDG), a radiotracer used in PET. Today, FDG is widely used in PET centers around the world to study and diagnose neurological and psychiatric diseases and to diagnose lung and colon cancer. She also developed another radiotracer that first showed that cocaine's distribution in the human brain parallels its effects on behavior.
In addition, Fowler developed radiotracers to map monoamine oxidase (MAO), a brain enzyme that regulates the levels of nerve-cell communication chemicals. Using these radiotracers, she discovered that smokers have reduced levels of MAO in their brains. This may account for some of the behavioral and epidemiological features of smoking, such as the high rate of smoking in individuals with depression and drug addiction.
Fowler earned her Ph.D. in chemistry from the University of Colorado and did her postdoctoral work at the University of East Anglia in England and at Brookhaven. She joined the staff of Brookhaven in 1971. A member of the National Academy of Sciences, Fowler's numerous other honors include the American Chemical Society's 2002 Glen T. Seaborg Award for Nuclear and Radiochemistry, the 2000 Society of Nuclear Imaging in Drug Development's Alfred P. Wolf Award; the U.S. Department of Energy's 1999 E. O. Lawrence Award, and the 1998 Francis P. Garvan-John M. Olin Medal.
Fowler has mentored dozens of students and scientists, and she holds adjunct appointments in the Departments of Chemistry and Biomedical Engineering at Stony Brook University and the Department of Psychiatry at Mount Sinai School of Medicine. She has been published in more than 300 peer-reviewed articles in leading scientific journals and holds eight patents for radiolabeling procedures.
NOTE TO LOCAL EDITORS: Joanna Fowler is a resident of Bellport, NY.