Contact:
Peter Genzer
, (631) 344-3174 | Written by Kay Cordtz
New Building Will House Large Project Teams
May 14, 2007
Construction has begun on a new building that will provide additional space for staff working on the National Synchrotron Light Source II (NSLS-II) project. The 8,000-square-foot prefab modular unit going up alongside the project's existing quarters in Bldg. 817 will add 30 offices and 11 cubicles to the available space. NSLS-II project staff also occupy Bldg. 830M, across the street from 817, and both buildings are filled to capacity. After the NSLS-II project is completed, the new building will be reused to provide office space for future project teams.
"This building will house scientific, engineering, and design staff, and will enable a large project team to work together," said Martin Fallier, NSLS-II Director for Conventional Facilities. "Within the next six months, there will be a rapid increase in the staff needed to carry out the NSLS-II project. Co-locating them in this building, close to the existing staff, will provide the greater efficiency needed for the NSLS-II project to succeed with its very aggressive schedule."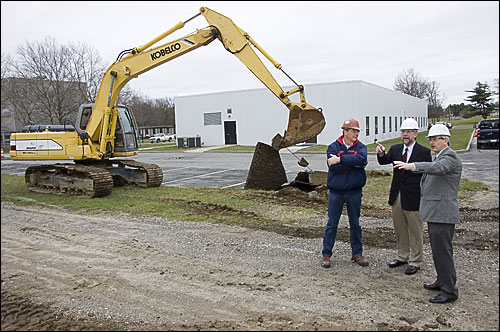 (L to R) Gerry Van Der Laske, Steve Dierker and Marty Fallier survey the construction site.
Fallier said that the staff should take occupancy of the building by the end of June "if things go well," and will occupy the building for the next six or seven years.
Gerry Van Derlaske, manager of Bldg. 817, will serve in the same capacity for the new building. He said the $1.92 million project is being funded by the Department of Energy's General Plant Program (GPP) budget.
"I'm very excited about the project," Van Derlaske said. "It will be very different from what the Lab is used to seeing in temporary office space. The quality of the material used in the fabrication is a significant upgrade compared to previous modular buildings at the Lab. You won't know you're in a modular building."
The building will have full amenities including offices, a design room, conference room and kitchen. It will have solid doors and high efficiency windows and will be fully ADA compliant. Its metal panel exterior will match closely with the adjacent building 817.
Hamid Talai, of Engineering and Construction Services, is the project lead architect for Plant Engineering. The preliminary site preparation work is nearing completion, and a new parking lot and an access road to neighboring Bldg. 817 will be built. The PE construction inspection team includes Dennis Robertson, lead inspector, and Gary Barnett, who is overseeing utility installation.
Steve Dierker, Associate Laboratory Director for Light Sources and NSLS-II Project Director, said he is looking forward to watching the building go up.
"New construction is always a good thing to see at the Lab," he said. "It is a visible reminder of our exciting future."
2007-10635 | INT/EXT | Newsroom