Young Musicians Strut Their Stuff at Brookhaven Lab June 19
May 19, 2010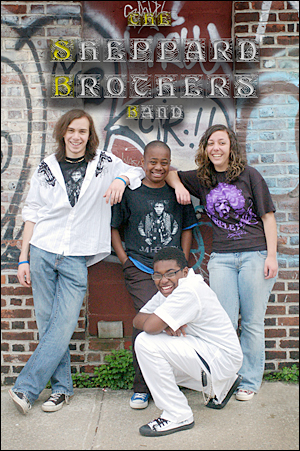 enlarge
The Sheppard Brothers is one of three bands to perform at a Young Musician's Showcase at Brookhaven Lab on June 19.
UPTON, NY — A number of up-and-coming local musicians will get a chance to strut their stuff at a Young Musician's Showcase at the U.S. Department of Energy's Brookhaven National Laboratory on Saturday, June 19, at 7:30 p.m. in Berkner Hall. Sponsored by the BNL Music Club, the concert is open to the public. All visitors to the Laboratory 16 and older must bring a photo I.D.
Featured artists at this performance will be "The Sheppard Brothers," "Calico Galaxy," and "The Well." The aim of this new musical series at the Laboratory is to offer performance opportunities to young musicians with exceptional talent at the college, high school and middle school level.
The Sheppard Brothers (William Floyd High School) consists of Kenya Sheppard, lead guitar and vocals; Camara Sheppard, keyboards and backup vocals; Ryan McCloskey, drums and backup vocals; and Angelica Franzino, bass and vocals. The band will play a mixture of blues and rock, featuring songs of Jimi Hendrix, Prince, and Led Zeppelin. For more info on The Sheppard Brothers go their website.
Calico Galaxy (Patchogue-Medford High School) consists of twin brothers Nick Rufolo on bass and Mike Rufolo on drums; Josh Smith (currently majoring in music at the City College of New York), keyboards; Anthony Romano, guitar; Dan Minogue and Jon Greene, both on sax; and Daniel Pessalano (currently studying at Ithaca College School of Music) on vibraphone. The band describes their music as a collision of Frank Zappa and Jaga Jazzist. Some other musical inspirations include The Edgar Winter Group, Bela Fleck and the Flecktones, Stevie Wonder, Tower Of Power, and Weather Report. For more information on Calico Galaxy to: http://www.myspace.com/calicogalaxy.
The Well (Smithtown HS East and West), a recently formed combo, will perform original compositions of jazz-fusion inspired rock. The band consists of brothers Eddie Bickard on drums and Alex Bickard on bass and John Romano and Dylan Larese on guitar.
Tickets for this concert are available at www.ticketweb.com. To promote young talent and provide music at a reasonable cost, the BNL Music Club is offering all tickets for this show for $5. This performance is appropriate for all ages, including children. Advance ticket purchase is recommended.
For more information, call 631 344-5139.
2010-11135 | INT/EXT | Newsroom