Contact:
Peter Genzer
, (631) 344-3174 | Written by Joe Gettler
BSA Distinguished Lecture on 10/2: Illuminating Dark Matter
September 26, 2018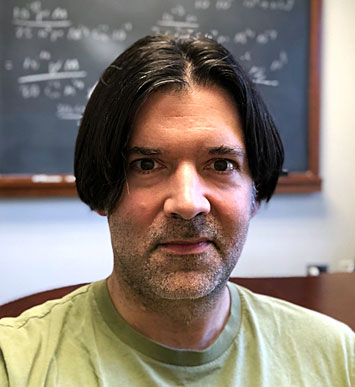 enlarge
Neal Weiner, of the Center for Cosmology and Particle Physics at New York University, will give a BSA Distinguished Lecture at Brookhaven Lab on Tuesday, Oct. 2, at 4 p.m. in Berkner Hall.
UPTON, NEW YORK — Neal Weiner of the Center for Cosmology and Particle Physics at New York University (NYU) will give a talk, titled "Illuminating Dark Matter," at the U.S. Department of Energy's (DOE) Brookhaven National Laboratory on Tuesday, Oct. 2. His talk, a BSA Distinguished Lecture, will be held at 4 p.m. in Berkner Hall.
Scientists estimate all the universe's visible matter, from subatomic quarks and gluons to the largest stars, accounts for less than 5 percent of the entire universe's actual contents. The overwhelming majority of matter throughout the universe is something other than the building blocks comprising everything we see, yet we are profoundly unaware of what the universe's mysterious dark matter is.
During his talk, Weiner will describe the range of ideas that have arisen as to what dark matter might be, where it came from, and how to look for it. He will detail progress made in the search to understand the nature of dark matter and what questions scientists hope to answer during the current era of exploration, including "What does the dark universe have to do with the one we can see?"
About the Speaker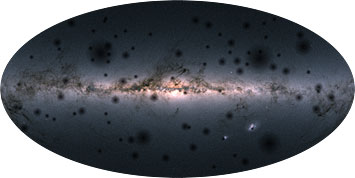 enlarge
The milky way with hypothesized "dark halos" shown that populate it.
Neal Weiner is a professor of physics in the Center for Cosmology and Particle Physics at NYU. He has worked widely on physics beyond the standard model—the theory that describes all known fundamental particles and explains how they interact—with a special emphasis on dark matter. He has focused on "dark sectors," such as new interactions, multiple states, and how such particles might be discovered.
Weiner studied physics and math at Carleton College before earning a Ph.D. from the University of California, Berkeley, in 2000. He was a postdoctoral researcher at the University of Washington from 2000 to 2004 and joined NYU in 2004. The Simons Foundation named Weiner a fellow in theoretical physics in 2017 and he was named a Kavli Fellow in 2009. He was recognized with an Outstanding Junior Investigator award from DOE in 2006 and a CAREER award from the National Science Foundation in 2004.
About BSA Distinguished Lectures
BSA Distinguished Lectures are sponsored by Brookhaven Science Associates, the company that manages Brookhaven Lab, to present topics of general interest to the Laboratory community and the public. These lectures are free and open to the public. All visitors to the Laboratory 16 and older must bring a photo ID.
This lecture is scheduled to be webcast live on WBNL (www.bnl.gov/video/).
Brookhaven Lab is located on William Floyd Parkway, one-and-a-half miles north of Exit 68 of the Long Island Expressway. Maps (https://www.bnl.gov/maps/)
2018-13137 | INT/EXT | Newsroom