Contact:
Peter Genzer
, (631) 344-3174 | Written by Ariana Tantillo
Brookhaven Lab to Co-Host DOE's CyberForce Competition
Teams of college students at Brookhaven and six other U.S. Department of Energy national laboratories will compete in a cyberdefense competition focusing on energy-related critical infrastructure
November 29, 2018
UPTON, NY—The U.S. Department of Energy (DOE) will host its fourth collegiate CyberForce Competition on December 1. This competition aims to address the cybersecurity capabilities gap and increase awareness of critical energy infrastructure.
The event is co-funded by the DOE's Office of Cybersecurity, Energy Security, and Emergency Response; Office of Electricity; Office of Science; Office of the Chief Information Officer; and the National Nuclear Security Administration. Hundreds of college students from across the country will compete at seven DOE national laboratories to defend a simulated energy infrastructure network from cyberattack.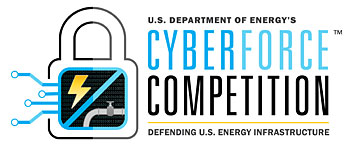 Of the 70 participating college teams, five will come to DOE's Brookhaven National Laboratory, with students from Columbia University, New York University, Suffolk County Community College, the United States Military Academy at West Point, and the University of Maryland, Baltimore County (UMBC). The other 65 teams will be competing at DOE's Argonne, Idaho, Lawrence Berkeley, Oak Ridge, Pacific Northwest, and Sandia National Laboratories.
At the day-long competition, students will engage in energy-focused, scenario-based activities centered on cybersecurity methods, practices, strategies, policies, and ethics while defending their network against "red team" attackers played by volunteer cybersecurity industry professionals. Throughout the day, the teams will be presented with unusual or unexpected network activities, having to distinguish these anomalies from malicious network behavior. For this year's scenario, students will compete to defend the network of a hypothetical oil discovery, exploration, and transportation company that uses high-performance computing to assess the health of existing pipelines and to investigate future excavation locations.
The students will be challenged not only to secure their network but also to maintain its functionality so that volunteer system users can continue to perform typical operations, such as downloading files. Using a points-based system, the volunteer users will assess how well the teams maintain usability, and a panel of industry professionals will judge the creativity and innovation of the teams' defense strategies. The team with the most points at the end of the competition will be the nationwide winner, and each laboratory site will announce a local winner.
"The sophisticated infrastructure and scenario supplied to the teams provide a remarkably realistic environment to configure and defend," said Michael DePhillips, a cybersecurity researcher in Brookhaven's Nonproliferation and National Security Department. "There is a lot to be learned in classrooms; however, there is no substitute for this level of simulation to test knowledge and help develop spontaneous response skills, teamwork, and dexterity. The scaled oil pipelines, high-performance computers, and information technology backbones created by DOE experts give contestants a unique opportunity to develop skillsets typically confined to on-the-job experiences."
Corporate sponsors of this event are American Fuel and Petroleum Manufacturers, American Public Power Association, Claroty, CybatiWorks, Federal Training Partnership, General Atomics Electromagnetics, National Association of State Energy Officials, Microsoft Azure Government, Tennessee Department of Environment and Conservation, and West Monroe.
The CyberForce Competition, which started in 2016, promotes the development of a cybersecurity professional workforce with competencies relevant to the energy sector and raises awareness of the cutting-edge cybersecurity and critical infrastructure innovation happening in the Department and across the national laboratories. The competition not only encourages students to consider cybersecurity careers but also helps them develop the technical and collaborative skills needed to be successful in the cybersecurity workforce.
"Our nation needs skilled cybersecurity professionals to protect our energy systems and infrastructure from cyberattacks," said Noel Blackburn, manager of university relations and DOE programs in Brookhaven Lab's Office of Educational Programs. "The CyberForce competition is one of many opportunities that the DOE offers students to give them real-life interactive scenarios and paths to consider career opportunities in this critical field. Events such as the CyberForce competition also help students to explore the scope and magnitude of other exciting career opportunities in STEM [science, technology, engineering, and mathematics] at DOE's national laboratories."
For more information, please visit the CyberForce Competition website.
Brookhaven National Laboratory is supported by the Office of Science of the U.S. Department of Energy. The Office of Science is the single largest supporter of basic research in the physical sciences in the United States, and is working to address some of the most pressing challenges of our time. For more information, please visit science.energy.gov.
Follow @BrookhavenLab on Twitter or find us on Facebook.
2018-13230 | INT/EXT | Newsroom