Contact:
Peter Genzer
, (631) 344-3174 | Written by Kelly Zegers
Long Island Students Compete at Brookhaven Lab's Maglev Contest
Students earned awards for top maglev vehicle speed and appearance in annual contest
March 29, 2023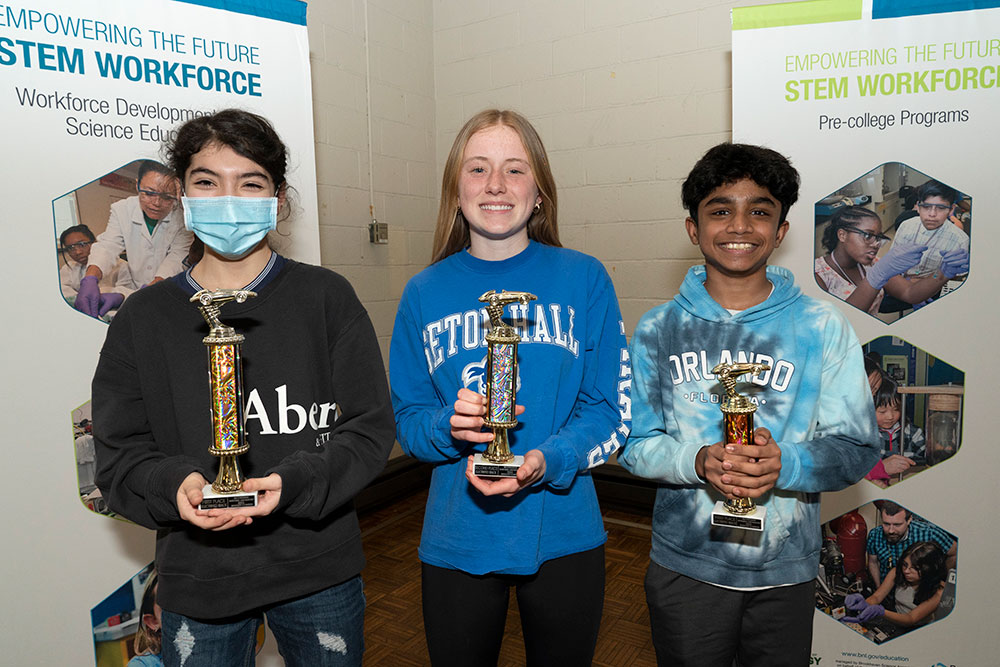 enlarge
From left to right: Bay Shore Middle School students Madison Wolferd, Payton Kelly, and Josiah Koshy swept the electrified track category.
UPTON, NY—Students from middle schools across Long Island put their carefully crafted magnetic levitation vehicles to the test at the 2023 Maglev Competition hosted by the U.S. Department of Energy's Brookhaven National Laboratory on March 22.
Maglev vehicles float over a fixed track, supported and driven by magnetic fields—like flying with lift provided by magnets instead of wings. Keeping math, science, and technology principles in mind to optimize their designs, students sent cars equipped with Styrofoam lunch tray sails, boxes full of varying amounts of pennies, lightweight planks with colorful propellers, pop culture characters, and other creative designs—some 3-D printed—hovering down the tracks.
"One of the most exciting things about science and engineering is exploring things that have never been done before, as the scientists at Brookhaven Lab's world-class facilities do," said Brookhaven's Office of Educational Programs Manager Kenneth White. "This competition shows students the challenge and fun in learning as you go while they experiment with and adjust their designs to build a fast maglev vehicle."
The annual contest is based on technology pioneered by two Brookhaven Lab researchers, the late Gordon Danby and James Powell, who invented and patented superconducting maglev—the suspension, guidance, and propulsion of vehicles by magnetic forces.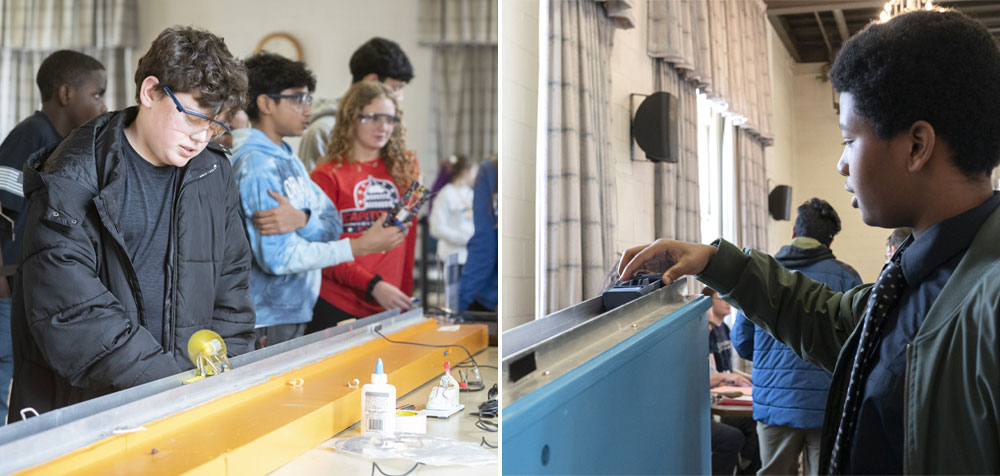 enlarge
Students designed maglev vehicles for different kinds of tracks and power, including cars with battery-powered propellers (left), and ones that sped down a gravity-guided track (right).
Before they locked in their official competition speeds, students had the chance for test runs and fine-tune adjustments to add or remove weight to their vehicles, shave down the sides of their cars for a better fit on the track, and tinker with magnet placement. Brookhaven Lab staff and volunteers recorded times and judged design portfolios that outlined each racer's design approach.
Madison Wolferd, a Bay Shore Middle School eighth grader who earned first place in the electrified track category with a speed of 1.6 seconds, said it took time to plan out just how light her propeller car should be.
"I'm very excited and this is very nice, I'm very glad I won," Wolferd said.
Ryan Bartens, an eighth grader at Prodell Middle School, won the gravity category with a vehicle that resembled an aerodynamic large wedge of cheese and carried 75 passengers (pennies).
"There were three other people who chose the design of cheese," Barten noted. "I want to thank my great technology teacher Mr. Driscoll."
A total of 121 students from seven Long Island middle schools submitted vehicles in speed and appearance categories. See the competition results and photos:
Speed Categories
Self-Propelled (Other)
1st Place: Ruth Palencia, Bay Shore Middle School
2nd Place: Dylan Raghuber, Bay Shore Middle School
3rd Place: Josue Padilla, Bay Shore Middle School
Electrified Track
1st Place: Madison Wolferd, Bay Shore Middle School
2nd Place: Payton Kelly, Bay Shore Middle School
3rd Place: Josiah Koshy, Bay Shore Middle School
Wind Power
1st Place: Allison Byrne, Great Hollow Middle School
2nd Place Kayla Hakim, Great Hollow Middle School
Gravity
1st Place: Ryan Bartens, Prodell Middle School
2nd Place: Indigo Oneil, Bay Shore Middle School
3rd Place: Nayley Alvarado, Bay Shore Middle School
Appearance Categories
Futuristic
1st Place: Mia Derose, Berner Middle School
2nd Place: Carter Jump & Alvin Lan, Great Hollow Middle School
3rd Place: Thomas Maria & Jeremy Schomber, Great Hollow Middle School
3D Printed
1st Place: Karson Wong, Great Neck South Middle School
2nd Place: Jaideh Guglielmo, Great Hollow Middle School
Brookhaven National Laboratory is supported by the Office of Science of the U.S. Department of Energy. The Office of Science is the single largest supporter of basic research in the physical sciences in the United States and is working to address some of the most pressing challenges of our time. For more information, please visit science.energy.gov.
Follow @BrookhavenLab on Twitter or find us on Facebook.
2023-21106 | INT/EXT | Newsroom