Schumer, Bishop Announce Over $30 Million for BNL Science
February 18, 2009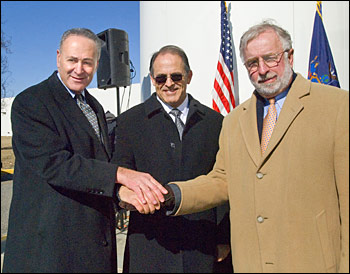 (L to R) Senator Schumer, Director Sam Aronson and Congressman Bishop.
Joined by Lab Director Sam Aronson, Senator Charles E. "Chuck" Schumer and Congressman Tim Bishop visited Brookhaven Tuesday morning to announce that the Lab will receive more than $30 million in direct funding from the economic stimulus bill signed that afternoon by President Obama. The Lab is also eligible to apply for a portion of an additional $1.6 billion allocated for research. Aronson described the two lawmakers as "very strong supporters of the Laboratory."
"Get your shovels ready, build that light source!" Schumer declared, adding that Brookhaven can expect to receive $103 million in an omnibus bill to begin construction of the National Synchroton Light Source II. The project will mean 1,000 new Long Island jobs over the next three years. NSLS-II is scheduled to begin operations in 2015. Bishop, whose family farmed on Long Island for six generations, praised Brookhaven for "doing outstanding work moving the country forward on so many fronts. I know that the money we invest in this Lab will be extremely well spent and will change lives for years to come."
2009-1097 | INT/EXT | Newsroom