Stony Brook University Student Jiefu Yin Wins 2017 Mow Shiah Lin Scholarship
October 13, 2017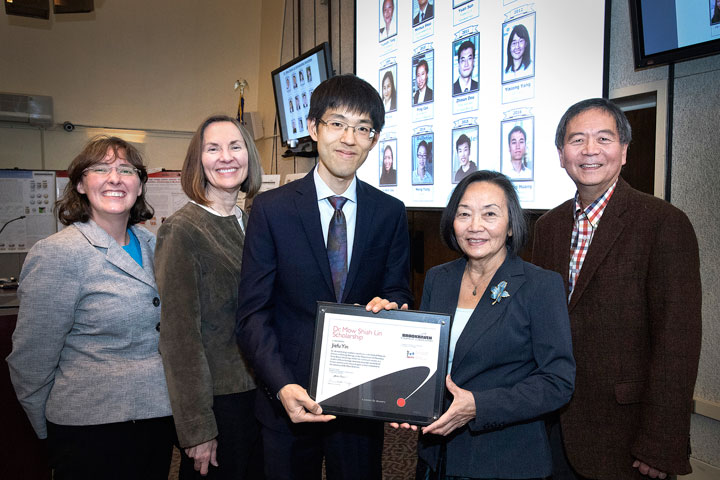 enlarge
Beth Y. Lin, spouse of the late Mow Shiah Lin, presents Stony Brook University student Jiefu Yin with the 2017 Mow Shiah Lin Scholarship. Pictured from left to right: Amy Marschilok (SBU advisor), Esther S. Takeuchi (BNL/SBU advisor), Jiefu Yin, Beth Y. Lin, and Kenneth J. Takeuchi (SBU advisor).
On Friday, September 29, the U.S. Department of Energy's (DOE) Brookhaven National Laboratory awarded Jiefu Yin with the 13th annual Mow Shiah Lin Scholarship. This award, which is sponsored by Brookhaven's Asian Pacific American Association (APAA), consists of a $1,000 prize and honors the distinguished Brookhaven scientist for whom it was named. The scholarship was presented to Yin at an award ceremony and reception held at the Lab on Friday, Sep. 29.
Yin is currently a graduate student at Stony Brook University (SBU) and is pursuing a Ph.D. in Chemistry. He conducts high-profile research at Brookhaven Lab under the direction of Stony Brook chemists Esther Takeuchi (who also holds a joint appointment at Brookhaven), Kenneth Takeuchi, and Amy Marschilok. Their work is focused on the design and development of novel battery systems with high voltage and high energy density cathode materials. Yin's research could significantly reduce the cost of producing batteries, help control environmental pollution, and improve the loading ability of electrical vehicles.
"It's a great honor to be awarded the Mow Shiah Lin Scholarship," Yin said. "I appreciate the opportunity to conduct research at Brookhaven, where I can work with the smartest scientists and use some of the most developed techniques in the world. This scholarship is a landmark of my Ph.D. study and it will support my future career of new discoveries on advanced power sources."
About the Scholarship
Brookhaven's APAA established the Mow Shiah Lin Scholarship to commemorate the life and career of Mow Shiah Lin, who began his career at Brookhaven Lab in 1975 as a postdoctoral fellow. Lin advanced to co-lead a research team that used selected bacteria to convert toxic oil wastes into useful products. In 2001, Lin shared an R&D 100 Award—a prize given by R&D Magazine for the top 100 technological achievements of the year—for developing a technology to recover silica from geothermal brine. At the height of his career in 2003, Lin died suddenly from a brain aneurysm. His coworkers, friends, and family contributed funds to establish this scholarship in honor of his research and remarkable achievements.
The Mow Shiah Lin Scholarship is granted annually to a student of Asian heritage with a U.S. student visa matriculating toward a doctorate in Environmental & Energy Technology, Biology, or Chemistry at an accredited institution of higher education on Long Island, including Brooklyn and Queens, in remembrance of the manner in which Mow Shiah Lin began his career.
Brookhaven National Laboratory is supported by the Office of Science of the U.S. Department of Energy. The Office of Science is the single largest supporter of basic research in the physical sciences in the United States, and is working to address some of the most pressing challenges of our time. For more information, please visit science.energy.gov.
Follow @BrookhavenLab on Twitter or find us on Facebook.
2017-12541 | INT/EXT | Newsroom