Child Development Center's 'Universal Grandma' Retires
June 3, 2009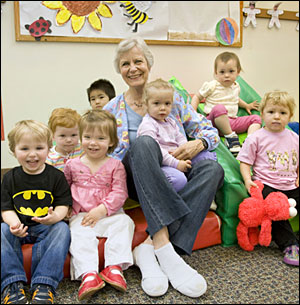 enlarge
Barbara Bosshard
Barbara Bosshard loves babies. Working in the infant center at BNL's Child Development Center (CDC) for the past 18 years, she has been caring for the Lab's youngest family members, first as an assistant and then, since 1999, as supervisor of the infant center. Bosshard retires on June 5.
"It's been a wonderful and interesting time," says Bosshard, who knows almost all the children in the CDC, having first met them as infants. "I have had the joy of watching so many of the children here develop and grow, and make milestones for themselves and their families."
Parents of children at the CDC have always appreciated Bosshard's nurturing care of their babies, and she has been hailed as the "universal grandma" from the special relationship she develops with each little one. Bosshard enjoys the differences between one baby and another, she says. "For example, one baby will fall asleep easily, one always has to be rocked, one will sit and play, another will climb on anything. I can tell you, you don't get bored!"
Said Joann Faberlle, who heads the CDC, "Barbara has dedicated herself to providing the highest quality care to the children in her charge in a most loving and nurturing way. She has worked, either directly or indirectly, with just about every child and family who has walked through our doors, and she will be dearly missed."
In looking back, Bosshard feels that a unique quality about the CDC is its international atmosphere. "I've learned so much from having children from so many countries, all with different customs that each country thinks of as 'normal' for babies and small children," she says.
Bosshard was no stranger to the international scene. She grew up in Basel, Switzerland, and spent six months in England looking after babies and getting her first courses in early childhood education. When her Swiss husband, the late Heinz Bosshard, joined BNL's Biology Department in 1989, she and her young sons accompanied him to the U.S.
"Luckily for me, the CDC started in 1991, and I got a job assisting with the infants. Later, I went back to school to become a registered nurse. But I really wanted to stay with the babies, and so when the infant center supervisor made a career change in 1998, I was able to replace her in that position and at the same time be available as an RN for all the children."
When Bosshard retires on June 5, she will still have young children in her life — her own granddaughters. "I live in Yaphank, and I am very lucky to have one son and his family living in Sound Beach and my other son in Manhattan, so I see them often," she says. And an adventure is near — three days after leaving CDC, Bosshard and her whole family are off to Switzerland to visit her Swiss family, including a very special aunt. "I'll miss everyone, but good days lie ahead," she says.
2009-1255 | INT/EXT | Newsroom