Back Cut!
Lab staff get in-the-field chainsaw training
November 20, 2018
"Back cut!" — These are the words you heard shouted out in the woods as employees from the Lab's Facilities and Operations Directorate (F&O) were taking field chainsaw training.
The training was offered as part of the New York Wildfire and Incident Management Academy (NYWIMA), which has hosted its annual training exercise on the Lab's site for nearly 20 years. This intensive five-day training program—which includes both classroom and field instruction—was conducted by wildfire professionals from the New York State Department of Environmental Conservation (NYSDEC).
Chip Sullivan, general supervisor for the Production Division's Civil Services group at Brookhaven, said, "The major take-away from this training is how inherently dangerous this work is. The methods and best practices have changed over time to address lessons learned within the industry. It is very important to keep current on this training if we are to perform tree work."
Instructors from NYSDEC demonstrated how to "notch" a tree so that it will fall in the proper direction. The back cut is the final cut and is made on the opposite side of the notches. The back cut disconnects almost the entire tree from the stump, leaving a hinge that helps to control the tree's fall. So, when you hear someone yell "back cut" you know that a tree will fall soon after.
In addition to the chainsaw training taken by Lab employees, the Wildfire Academy offers multi-faceted courses to emergency responders across the United States and internationally. This year, a crew from Canada and six firefighters from Greece attended the Academy.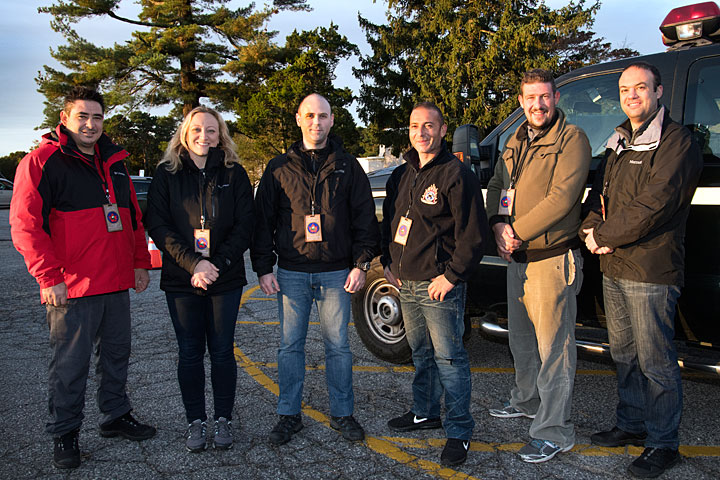 enlarge
Greek Fire Warrant Officers Dimitrios Zervas (right) and Georgios Petras (third from left), with Greek firefighters (from left), Nikolaos Poulakis, Maria Bitra, Charalampos Peros, and Vasilios Stefas.
The Greek firefighters, three from Athens, two from the island of Kea, and one from the island of Kalymnos, said they were impressed by the professionalism of staff at the Lab and NYWIMA teams who showed a lot of support to their group.
"Forest fires are prevalent in Greece, especially from May through October," said Dimitrios Zervas, a Greek Fire Warrant Officer. "This past July, we experienced a huge forest fire in the Wildland Urban Interface area of Mati near Athens that caused 99 deaths. The training and experience we will now bring home to our firefighting colleagues will enhance our tactics and strategies and help to keep us and others safe. We are grateful for the training and for the warm hospitality we received by everyone we met."
"This is a perfect example of the value of collaborations with external organizations," said Tom Daniels, Associate Laboratory Director for F&O. "Lab workers in F&O have important jobs to do. Safety is always our number-one priority, and I applaud these employees for their efforts and diligence in taking the chainsaw class and for all the training they routinely take to help keep themselves and their coworkers safe."
2018-13183 | INT/EXT | Newsroom