Students Win Contest at Premier Supercomputing Conference
December 30, 2009
A team of undergraduates from Stony Brook University has won a high-performance computing challenge at the top supercomputing conference, SC09. The event was held November 14-20 in Portland, Oregon, and was attended by more than 11,000 people. The students received support from the New York Center for Computational Sciences (NYCCS), a joint venture of Stony Brook University (SBU) and Brookhaven Lab.
The International Conference for High Performance Computing, Networking, Storage and Analysis was established 21 years ago. Its SC conference series, co-sponsored by the Association for Computing Machinery and the Institute of Electrical and Electronics Engineers (IEEE) computer society, is a leading gathering of researchers, scientists, IT and data center managers, application developers, and computer manufacturers. The conferences have covered a range of topics in computing, including scientific and engineering research, technological development, and education.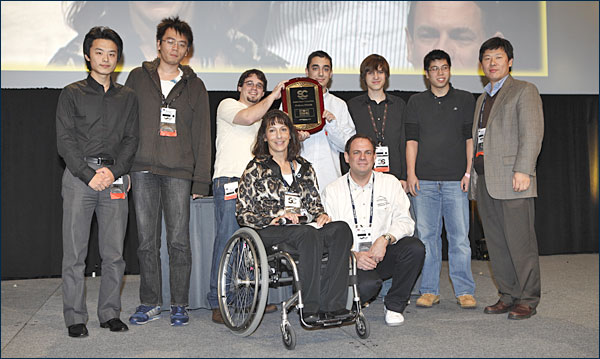 enlarge
The winning SBU team at the SC09 computing conference: Professor Jim Jiao, Aaron Pellman-Isaacs, Anthony Biondo, William Chan, Xincheng Zhang, Jan Kasiak, Yuwei (Ethan) Gui, with AMD representative Guy Ludden.
"This is a big deal for us — all the DOE Labs are represented and it's a chance to show off what we've done in the past year in computational science," said Jim Davenport, director of the Computational Science Center (CSC) at Brookhaven. "The big news this year was that a civilian lab, Oak Ridge, made it to the number one spot on the top 500 list."
SC09 included the Student Cluster Competition that challenged students to construct their own high-performance computing clusters. The teams, limited to high school and undergraduate students, were judged on how well their systems performed under a comprehensive "stress test" and how quickly they could complete a series of demanding computing applications.
The overall winner was a team of students from Stony Brook. The team members were Aaron Pellman-Isaacs, Anthony Biondo, William Chan, Yuwei Gui, Jan Kasiak, and Xincheng Zhang. Their supervisor was professor Jim Jiao of the university's Department of Applied Mathematics and Statistics.
"The students worked very hard through three days of competition," said Jiao. "Despite little sleep and unexpected hardware failures, they kept high spirits and won due to their incredible efforts."
This year's competition was centered on a "Go Green!" theme that emphasized energy efficiency and low power consumption. This presented the students with an additional challenge: their power supply was limited to a pair of 120-volt, 26-amp circuits. Each team's computing hardware had to fit into a single rack.
The teams, each consisting of six students and a supervisor, were from Arizona State University, the University of Colorado, Purdue University, and SBU. Although supervisors were forbidden from offering students technical assistance during the event, the competition website encouraged them "to make pizza, snack, and soda runs for the team."
Students were not responsible for supplying their own hardware. Each team partnered with one or more vendors to acquire needed computing and networking equipment. They were allowed to use any commercially available hardware components, operating systems, and software, provided they did not exceed the power and space limits of the contest.
The SBU team was sponsored by Dell, Advanced Micro Devices (AMD), and Mellanox. The students also received financial aid from the NYCCS.
James Glimm aided the team's negotiations with Dell and AMD for hardware, recruited the students, and helped train them. Glimm is professor and chair of Applied Mathematics and Statistics at SBU, as well as head of Applied Mathematics at the Brookhaven Computational Science Center.
"The SBU team was formed from undergraduate students serving as systems administrators for a 3-teraflop Linux cluster (SEAWULF), which SBU maintains for general use by its faculty and staff," Glimm said. "This employment evidentially served them well in preparing them for this high level competition." Flop stands for floating point operations per second, a measure of computing power. A teraflop is a trillion flops; in comparison, the average laptop performs a few billion flops.
BNL and SBU formed the NYCCS in 2007 to develop high-performance computing on a range of topics in science and technology. The mission of NYCCS is to advance scientific discovery in areas related to the goals of its partner institutions, and further the broader scientific agenda and economic development of New York State in general.
2009-1546 | INT/EXT | Newsroom