#RHIC20 Celebrates the Relativistic Heavy Ion Collider's History
December 16, 2020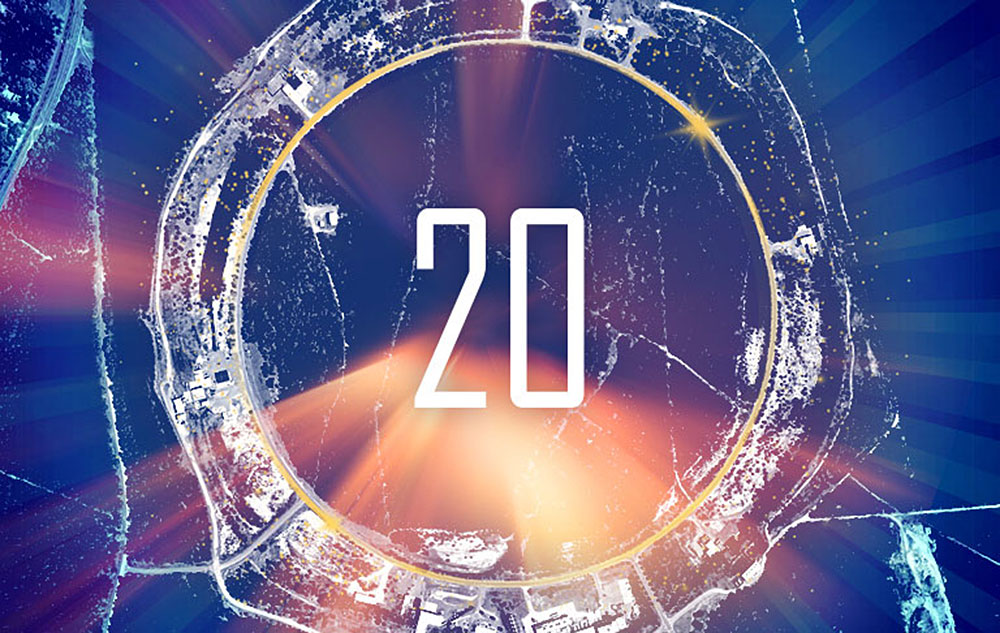 For 20 years, the Relativistic Heavy Ion Collider (RHIC) has been a smashing success in nuclear physics. From discovering the "perfect" liquid nature of quark-gluon plasma to achieving a series of "world's first" accelerator advances, RHIC has pushed well beyond the expectations foreseen at the opening of this U.S. Department of Energy Office of Science user facility for nuclear physics research.
To celebrate the 20th anniversary of RHIC, DOE's Brookhaven National Laboratory launched #RHIC20, a Twitter campaign looking back at some of the most exciting moments in RHIC's history. The campaign kicked off June 12, the 20th anniversary of RHIC's first collisions. Around 9 p.m. on that day in the year 2000, subatomic "fireworks" lit up display monitors in the control room of RHIC's STAR detector as gold ions smashed into one another at nearly the speed of light.
The first images of particles streaming from a head-on collision point were produced by #RHIC's STAR detector shortly before 9 p.m. #RHIC20 pic.twitter.com/XqZaIMMfa7

— Brookhaven Lab (@BrookhavenLab) June 12, 2020
Throughout the rest of #RHIC20, Brookhaven Lab remembered major milestones in the construction and commissioning of RHIC on their anniversaries.
#OnThisDay in 1999, a particle beam made the first complete lap around one of #RHIC's two accelerator rings. #RHIC20 pic.twitter.com/4qr1fpZ6Zv

— Brookhaven Lab (@BrookhavenLab) July 3, 2020
The first two of #RHIC's 300 superconducting sextupole magnets arrived at Brookhaven for installation #OnThisDay in 1993. #RHIC20 pic.twitter.com/hub0DtnUwj

— Brookhaven Lab (@BrookhavenLab) August 9, 2020
After several days of only an inch-per-minute movement, the east arm of the massive PHENIX detector at #RHIC was finally put into place on January 21, 2000, completing the detector's assembly. #RHIC20 pic.twitter.com/oSM0NYXuQt

— Brookhaven Lab (@BrookhavenLab) October 14, 2020
The campaign also highlighted some of the biggest scientific discoveries made at RHIC.
Remembering a remarkable discovery: #RHIC physicists announce the discovery of the perfect liquid. #RHIC20 https://t.co/tU4jCbN7RG pic.twitter.com/DH9p9gDPd4

— Brookhaven Lab (@BrookhavenLab) July 8, 2020
In 2010, physicists discovered that particle collisions at #RHIC created matter 250,000 times hotter than the center of the sun. ?? ?? #RHIC20 https://t.co/yeY8AzTRMg

— Brookhaven Lab (@BrookhavenLab) December 14, 2020
In 2017, physicists at #RHIC discovered quark-gluon plasma is the most vortical (a.k.a. "swirliest") fluid.

It surpasses the swirl of super-cell tornado cores, Jupiter's Great Red Spot, and even nanodroplets of superfluid helium. #RHIC20 https://t.co/YRzc0agEWp

— Brookhaven Lab (@BrookhavenLab) November 17, 2020
#OnThisDay in 2003, scientists presented the first results from deuteron-gold collisions at #RHIC, a major step towards the discovery of quark-gluon plasma. #RHIC20 https://t.co/opaTd7C7y9 pic.twitter.com/oPl8Yj4e77

— Brookhaven Lab (@BrookhavenLab) June 18, 2020
With two decades of record-breaking accomplishments under its belt, RHIC is poised to dive deeper into the fundamental structure of nuclear matter with a final set of measurements to close out its experimental program. Then, a major collaborative effort will transform some of RHIC's foundational components into a brand-new nuclear physics research facility—an Electron-Ion Collider (EIC) that will take physicists into the next frontier.
From #RHIC to the #ElectronIonCollider: explore the next generation of nuclear physics research at Brookhaven Lab: https://t.co/vslxT9x9Ni. #NuclearSciWeek pic.twitter.com/12kXCujVmJ

— Brookhaven Lab (@BrookhavenLab) October 21, 2020
See the full #RHIC20 celebration on Twitter.
Brookhaven National Laboratory is supported by the U.S. Department of Energy's Office of Science. The Office of Science is the single largest supporter of basic research in the physical sciences in the United States and is working to address some of the most pressing challenges of our time. For more information, visit https://energy.gov/science.
Follow @BrookhavenLab on Twitter or find us on Facebook.
2020-17595 | INT/EXT | Newsroom