Meet Joe Gettler... See His Photo Exhibit
July 2, 2010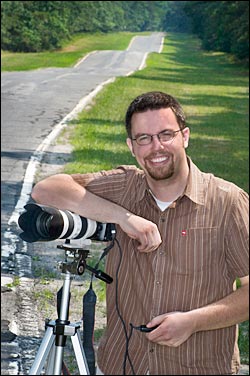 Joe Gettler
Often in the Bulletin, you can read an article written by Joe Gettler, who works in the Lab's Media and Communications Office. This article, however, is written about Joe Gettler and his upcoming photography show, "The East End: By Night and Day's Light," which opens this weekend.
Throughout July, a free exhibit of Gettler's photographs will be on display at Hampton Bays Public Library. Many of the works to be shown are long exposures made at night on Long Island's East End, including Shinnecock Inlet, the windmill at Watermill, and the Montauk Lighthouse.
"At night, a camera records things very differently from the way we see them," Gettler explained. "You see everything that happened during the exposure, everything touched by light, all at once. It's like seeing all the pages of a flip book at the same time."
Cameras make images by controlling light that hits an electronic sensor or a piece of film. On a sunny day, less than a thousandth-of-a-second of light can make for a fine picture. At night, when much less light is available, making a good exposure can take 30 seconds or even several hours. Gettler's photographs are made mostly in the 30-seconds to one minute time frame, leaving enough time for the camera to record sets of waves rolling in at the ocean, or entire trains passing by, in the same exposure.
Gettler's interest in photography sparked while he was taking a course in college, and he picked up experience volunteering as a photographer for Habitat for Humanity. He began regularly photographing Long Island's East End, both at night and during the day, in 2008. His photos have been published in Newsday, the Philadelphia Inquirer, and the Press of Manorville & the Moriches. He is also the president of the BERA Camera Club, which all BNLers who are interested in photography are encouraged to join (contact jgettler@bnl.gov for more information).
Hampton Bays Publ i c Library will present approximately 20 of Gettler's photos through July. The opening reception is free and will be held on Saturday, July 3, at 2 p.m.
The show is supported in part with funds from the Strategic Opportunity Stipend (SOS) Program through the New York Foundation for the Arts, administered on Long Island by the East End Arts Council.
To learn more about the upcoming show, visit Gettler's website.
2010-1884 | INT/EXT | Newsroom