Back for Seconds: Nuclear Nonproliferation Summer Program Draws Eager Students
August 23, 2010
Most college students completed their last coursework months ago. But for the 23 participants in this year's Nuclear Nonproliferation, Safeguards, and Security (NNSS) course at Brookhaven, classes didn't end until July 2.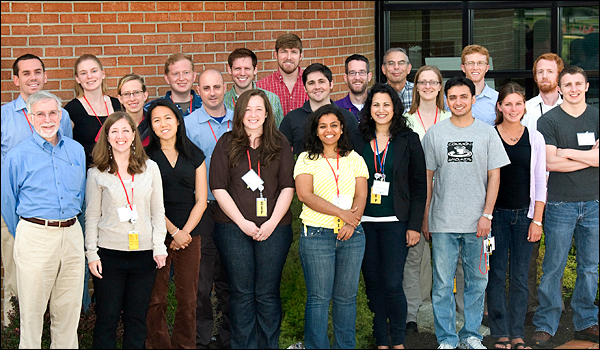 Participants in the 2010 Nuclear Nonproliferation, Safeguards, and Security course.
The Office of Nuclear Safeguards and Security in the U.S. Department of Energy's National Nuclear Security Administration (NNSA) sponsored the NNSS course. As part of the Next Generation Safeguards Initiative (NGSI), its goal is to encourage students to pursue careers in nuclear safeguards and nonproliferation.
Brookhaven employees Les Fishbone and Michael Rosenthal implemented the course with the help of the Office of Educational Programs, offering it for the first time last year.
The three-week program taught students both the technical and policy aspects of nuclear nonproliferation and safeguards. They attended six hours of classes a day, under the guidance of Rosenthal, a nonproliferation expert, and Fishbone, a safeguards authority. Additional presenters included employees of Brookhaven and other national laboratories, members of the NNSA and the State Department, representatives from non-governmental organizations, and several private consultants with relevant experience.
The combination of teachers, along with demonstrations and exercises at several Brookhaven facilities, was very effective.
"It was wonderful," said student Shivpal Vansadia, from Seton Hall University's John C. Whitehead School of Diplomacy and International Relations. "The professors were great."
Not only did the students enjoy working with their teachers, but the feeling was mutual.
"It was very rewarding interacting with such enthusiastic students," said Fishbone. "It's great to see their interest."
Students were pleased to learn about all aspects of the field.
"I'm a policy person," explained Leah Smith, an American University student, "so it was really great to see the technical aspects."
Georgia Institute of Technology student Shaheen Dewji, a self-described "tech person," said, "Most of my work is interdisciplinary, so for me this is one of the most effective programs I've been to. It's gotten everyone here very excited about safeguards and nuclear nonproliferation."
Their NNSS experience helped the students prepare for entering the workforce, achieving one of the goals of NGSI.
"For someone with career aspirations in nuclear nonproliferation this was a goldmine," Vansadia said. "I'm now more confident about these issues. Also, we covered a broad background, which made me feel well-rounded."
Travis Hobbs, from John Hopkins University's School of Advanced International Studies, added, "I got experience I couldn't have gotten anywhere else, and I'm really grateful for that."
The students found out about Brookhaven's program from a variety of sources. Barclay Ward, one of the class lecturers, helped recruit some participants, while others learned about NNSS through their professors. However, some of the most avid recommendations came from last year's alumni.
"A friend of mine took this course last year and endorsed it with a glowing recommendation," Dewji said.
With their enthusiasm for the program, it appears that this year's NNSS graduates will continue the word-of-mouth recruitment, ensuring that next summer's course will match this one's success.
2010-1897 | INT/EXT | Newsroom