Detective Novel Uses NSLS to Help Solve a Crime
November 4, 2010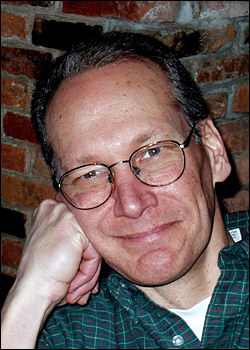 Archer Mayor's latest crime novel, "Red Herring," in which the protagonist travels to Brookhaven for expert forensics advice at the NSLS.
Electrical cord, a suicide note, a piece of a car's bumper — these are among the crime scene clues that detective Joe Gunther must use to decipher the puzzle of three seemingly unrelated deaths, tied together by a few cryptic drops of blood.
In Archer Mayor's just published "Red Herring," Vermont detective Joe Gunther travels to Brookhaven National Laboratory with this evidence in tow for cutting-edge forensics analysis.
"Red Herring" is the 21st in Mayor's page-turner series featuring Joe Gunther. Lauded by critics for his authenticity and regional tone, Mayor is himself an experienced law enforcement officer and currently a death investigator for the Vermont Chief Medical Examiner.
In 2004, he became the first crime novelist to receive the New England Booksellers Association award for best fiction and The New York Times has lauded Mayor's "dazzling skill," authenticity, and attention to detail.
This attention to detail brought Mayor to BNL.
"I like to write about what I don't know and about which I am interested," Mayor said. "What engages my intellect would, I hope, also engage the curiosity and interest of my readers."
In the book, Mayor takes readers along on the educational journey that he experienced, revealing Brookhaven science and the potential of that science in forensic investigations to his readers. To accomplish this, he presents the Laboratory through Gunther's wondering eyes as "this vast, hyperactive place… a shrine for the pursuit of knowledge on a passionate level."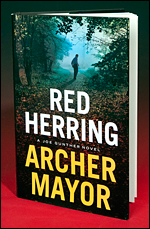 Biologist Wally Mangel was among the contacts that Mayor made at Brookhaven. Mangel, who was familiar with Mayor's writing, became interested in advising on the novel. Joe Gunther is on the trail of a murderer with a peculiar calling card: drops of blood at the crime scene, unrelated to each other or the victims. Mangel, whose research has included studying how blood clots dissolve, aided Mayor in theorizing how the blood in "Red Herring" could link the crimes and implicate the killer.
"For me, this was a lot of fun," said Mangel. "Doing biological research is a lot like solving a crime — you have to think deeply in order to solve the problems that you are working on, and you need to know the latest technology." Mangel also contributed a haiku on the NSLS that Mayor incorporated into the novel.
While assisting Mayor in identifying how advanced scientific techniques could aid Joe Gunther, Mangel came across a Bulletin article describing the work of Andreana Leskovjan, a Stony Brook University graduate working with Lisa Miller at the National Synchrotron Light Source (NSLS). After talking with her, she too became interested in helping with the book.
Leskovjan found a publication discussing how synchrotrons like NSLS could be applied in forensic investigations. It was this application that would inspire the usage of NSLS in the novel.
For Mayor's part, he was delighted to highlight NSLS and tackle a complex technical description within the pages of a fast-moving police procedural.
"What intrigues me most is what makes people tick," Mayor said, "how they behave under stress, why they do what they do, what tools they use.
"Bad guys or good guys are going to look around for whatever tool they can put their hands on, whether it's as blunt as a hammer or as exotic a machine as the light source."
As to what makes Mayor tick, it's clear from the novel that the same crucial attribute of science has driven Mayor's work as an investigator and a novelist: curiosity.
Visit Archer Mayor's website to read the opening chapter of "Red Herring."
2010-2080 | INT/EXT | Newsroom