Hearts collide — in a good way — at RHIC
July 19, 2011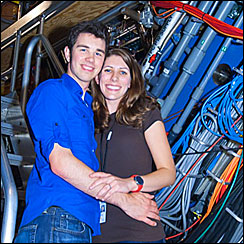 Dave and Kendra at STAR.
When Kendra Snyder, a science writer in Brookhaven Lab's Media & Communications Office, entered the STAR detector at the Relativistic Heavy Ion Collider (RHIC) last Friday afternoon to view some unusual crystalline deposits — supposedly formed in the beam pipe — she got an even bigger surprise: a diamond ring and a marriage proposal from fellow science writer Dave Mosher. The unusual proposal, dubbed "The Nerdiest Marriage Proposal . . . Ever" on Mosher's blog, triggered the interest of a reporter at The Daily, News Corporation's new iPad-only daily newspaper. Snyder and Mosher were interviewed last night, and the story — which includes references to RHIC's near-light-speed gold ion collisions — appears in today's edition. Even if you don't have an iPad, you can view the video, "Geek Love," at The Daily.
Congrats to Kendra and Dave!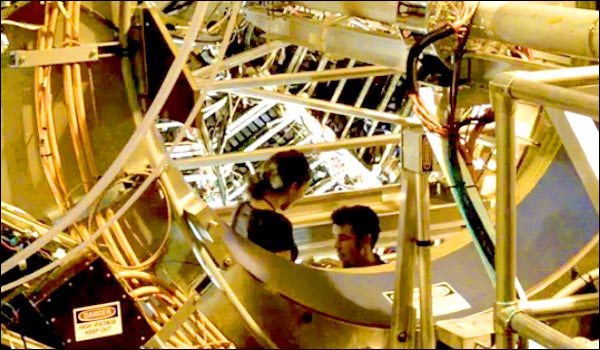 Kendra receives Dave's proposal at RHIC's STAR detector.
2011-2502 | INT/EXT | Newsroom