Shooting the Breeze with Bartender Helen Houck
August 25, 2011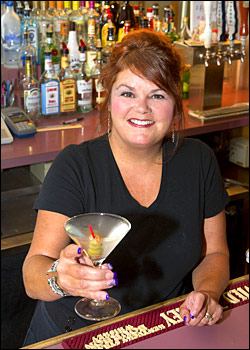 Helen Houck behind the bar
If you're new to the Lab, or just passing through, or your beamline is down and there's nothing to do, chances are, you've met Helen.
Helen Houck is the full-time bartender at the Brookhaven Center, which means she also serves in the roles of part-time psychologist, counselor, entertainer, and "den mother" to many of Brookhaven's scientists, students, and employees.
As the sole social and gastronomic hub at BNL on weekday evenings, the Center is aptly named. But a lot of the folks who spend time there after hours don't go for the burgers and beer, they go to see Helen.
From students and visitors fresh off the plane to 30-year career Brookhaven researchers, the scenery at the Center is as diverse as most bars ever get, and changes daily as well as seasonally.
"This is a very unique environment, and it's different every evening," says Helen. "I have my regulars and all, but you never know what to expect when working at the Brookhaven Center. Some days are slow and very quiet, but then there are times when it's just a swirl of people from all different cultures and scientific backgrounds, and at the end of the night I've got equations and drawings all over the cocktail napkins with notations written in five different languages."
Before she came to Brookhaven to work in catering and then at the Center full-time, Helen's bartending resume included pulling drafts for bikers at a place called Gunther's bar (where a "pina colada" equals a shot of rum poured in a light beer), as well as mixing martinis and uncorking wine for the much more conservative customers at various fine-dining establishments.
More notoriously, Helen served Richard Nixon at a Northport joint where she worked evenings while serving in the Coast Guard. And years later, she once refused to clear the dining room for a "very bratty" Mariah Carey (and her exasperating entourage) when Helen was floor manager of the now-defunct Rock Hopper's club in Centerport.
As a bartender, Helen's experience runs the gambit. But regulars at the Brookhaven Center don't just count on Helen to prescribe concoctions for whatever ails them (though that sometimes factors in), they also visit her for a more cerebral kind of solace. As a mother of three, an ex-military woman now married to a mathematics teacher, a former sail-maker, a self-described "discoverer of rainbows," (and, of course, a veteran of the food industry), Helen tends to shed a different light on the topic of the day than the typical Laboratory barfly.
As one of Helen's long-time customers, Karen Liebermann, says, "It's just good to come here and talk to Helen at the end of the day because she knows so much about so many things. I often stop by just because I know she'll be here. She's got lots of great stories — and she's a good sounding board."
Because of Helen's lifelong residence in New York and her affinity for Long Island, it's ironic that the drink she most dislikes happens to be an L.I.T. (Long Island Iced Tea, traditionally made with vodka, gin, tequila, rum, and Triple Sec). But given the many other roles she plays as Brookhaven's bartender, that makes sense. According to Helen, "I hate making L.I.T.s because of the extreme amount of alcohol in just one drink. I think people — especially young people — order L.I.T.s as a party-starter because they're very cheap and you can barely taste how much [alcohol] is really in them. I guess I just get maternal about it."
Although Brookhaven Lab's commuting population tends to head straight for the road after a long day at work, many scientists and students who visit here, especially those without a car, fondly remember the Center as where they went for a warm welcome and a comfy place to sit down for a while — a place like home — and Helen is a big part of providing it.
When you go and meet her in person, treat yourself to a dirty martini, Helen's own favorite. Feel free to strike up a conversation and doodle on the cocktail napkins. And come back soon.
2011-2545 | INT/EXT | Newsroom