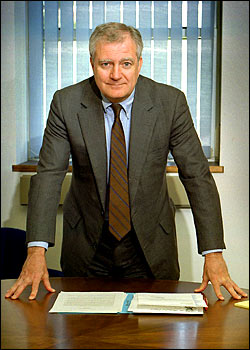 John H. Marburger III
A special memorial celebration will be held on Friday, September 16, at 3:30 p.m., to honor the legacy of John H. Marburger III, former Brookhaven National Laboratory director, third president of Stony Brook University (SBU), and former White House Office of Science and Technology Policy director, who died on July 28, 2011. The tribute will be held on the SBU campus at the Staller Center for the Arts, with a reception to follow at the Charles B. Wang Center. All are welcome.
Highlights of Jack Marburger's major contributions are online, including a page devoted to tributes from former President George W. Bush, colleagues, and friends. In addition, gifts may be made to the John H. Marburger III Memorial Fund, which will support women undertaking graduate studies in the physical sciences, engineering, or mathematics; fellowships to graduates in music performance; and the Pollock-Krasner House to support individual artists of established ability.