Look, Up in the Sky!
Is that a wing-walking physicist?
November 29, 2011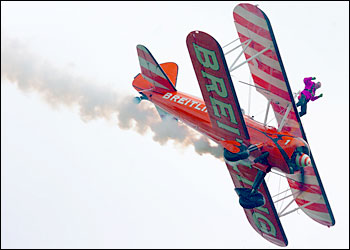 Photo courtesy Andy Newman.
Robert Palmer isn't your everyday high energy and accelerator physicist. He is also something of a daredevil. He and his sister Sylvia, a retired London dress designer and also a daredevil, have an unusual tradition: to perform highly unusual feats on Sylvia's major birthdays.
Thirty years ago, the siblings celebrated Sylvia's 50th birthday by parachute jumping at Shobdon in Herefordshire England. At 60 she flew on a Concorde (unfortunately her brother wasn't able to join her on that adventure). When she turned 70, Sylvia arranged a tandem skydive from 12,000 feet. "I don't know which of us was more nervous, but it was wonderful," she said.
Wearing a big grin, Palmer said, "When my big sister says jump, little brother jumps."
Most recently, for her 80th birthday, the two celebrated by wing-walking on old-style Boeing Stearman biplanes that took off from a field in Gloucestershire, England.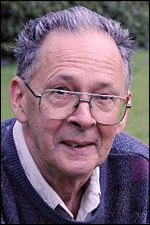 Robert Palmer
First Came Training
"We were happy to learn everything necessary that would help ensure a safe flight."
Palmer and his sister waited in the Gloucestershire field for the planes to return from an air show. Suddenly, they heard the roar of engines and saw smoke trails. "We thought we would hear them approach from a distance, but when we looked up the planes were right in front of us," he said. "Wow!"
Before partaking in their adventure, the siblings were required to be trained as members of the wing-walking team of AeroSuperBatics, Ltd. They received detailed safety instructions and field training. "We were happy to learn everything necessary that would help ensure a safe flight," said Palmer.
When the big moment came, the two were strapped onto posts over the wings of separate aircraft and readied for takeoff. Waving to each other and giving a "thumbs-up" sign the siblings were soon banking and diving − barnstorming at 130 miles an hour over and around the airfield.

Photo courtesy Andy Newman.
"The view was fantastic," said Palmer. "It is not at all like being in a plane. Although you are strapped on tight, your arms are free. It was exciting to hold my arms up and push against the wind."
Making Trails in Physics
But when Palmer isn't parachute jumping or wing-walking, he is busy making trails in physics research.
Originally hailing from England, Palmer earned a Ph.D. in physics at Imperial College, London. He joined Brookhaven Lab in 1960, and worked first with Nicholas Samios and others on high energy physics experiments. Later, his focus shifted to accelerator physics, starting with the invention of the inverse free electron laser in 1972. In 1973, Palmer proposed a method called longitudinal stochastic cooling, now known as the Palmer method, of correcting the momentum spread of particles as they circulate around an accelerator. The method has been used at CERN in Switzerland. He is currently working with his group on the design of muon colliders.
Palmer is the recipient of many prestigious awards, including the 2010 Advanced Accelerator Concepts Prize. In 1993, he shared the American Physical Society's W.K.H. Panofsky Prize with Samios and Ralph Shutt for the 1962 discovery of the Omega-minus particle. He received the American Physical Society's Robert R. Wilson Prize in 1999 for his outstanding achievements in the physics of particle accelerators. He is a member of the National Academy of Sciences. The success of many of today's superconducting accelerator magnets can be traced back to Palmer's ideas.
So what will these two adventurous siblings plan for Sylvia's 90th birthday? "We're looking for suggestions," said Palmer. Any ideas? Please send them to jane@bnl.gov.
2011-2643 | INT/EXT | Newsroom