Celebration at the Long Island Solar Farm: All Systems Are Go
November 22, 2011
It's official: All systems are go at the Long Island Solar Farm (LISF) located on site at Brookhaven Lab — the largest solar power plant in the eastern United States.
On Friday, November 18, more than 100 people — including officials from the Long Island Power Authority (LIPA), BP Solar International, Inc. (BP Solar), and Brookhaven Lab, and a number of government officials and environmental leaders — gathered at the 200-acre LISF. There, they celebrated the completion of construction and officially commissioned the farm.
Built in the southeast corner of Laboratory site, the LISF is owned by BP Solar and Met Life. It is made up of 164,312 photovoltaic panels and can produce 32-megawatts (MW) of electricity, which is enough to power up to 4,500 homes and businesses on Long Island. Among the largest solar farms in the nation constructed on federal property, it also boasts the smallest footprint for a solar array of its output.
LIPA Vice President for Environmental Affairs and ceremony emcee Michael Deering kicked off the ceremony as he said, "The Long Island Solar Farm does not just address our energy issues here on Long Island. It offers a multi-pronged approach in advancing our region's energy, environmental, and economic future."
Deering then introduced Michael Hervey, chief operating officer for LIPA, who noted, "Walk up to this power plant here and you can't hear it run, but there's a meter out there that says it has output."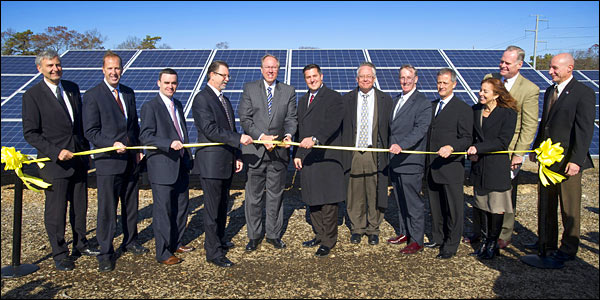 From left: Gordian Raacke, executive director, Renewable Energy Long Island; Kevin Law, president, Long Island Association; Brian Beedenbender, chief of staff for Brookhaven Town Supervisor Mark Lesko; Michael Deering, vice president, Environmental Affairs, LIPA; Michael Hervey, chief operating officer, LIPA; Assemblyman Dan Losquadro, First Assembly District, New York; Doon Gibbs, deputy director for Science & Technology, Brookhaven Lab; Michael Holland, manager, DOE Brookhaven Site Office; Michael Petrucci, chief executive officer, BP Solar; Adrienne Esposito, executive director, Citizens Campaign for the Environment; Assemblyman Mike Fitzpatrick, Seventh Assembly District, New York; Assemblyman Dean Murray, Third Assembly District, New York
While on stage, Hervey also thanked the more than 200 people, including men and women of the Local 25 and 1049 International Brotherhood of Electrical Workers, who worked to build the LISF.
"Long Island can be proud of its men and women who helped transform this space into the largest solar energy installation in the eastern United States," continued Michael Petrucci, chief executive officer for BP Solar. "Together, we are making Long Island a better place to live and do business."
Michael Holland, manager of the DOE Brookhaven Site Office, spoke next.
"The Department of Energy is pleased to have been able to provide the land here at Brookhaven National Laboratory for the Long Island Solar Farm, to test the technology, learn from it, and help develop solar energy's potential," Holland said.
DOE provided the space for the LISF at Brookhaven to attract investments from public and private sources, create jobs, encourage collaboration between agencies, help achieve objectives to strengthen America's energy security, and deploy clean energy resources.
After Holland, Brookhaven Lab's Deputy Director for Science & Technology Doon Gibbs took to the stage.
"New York State and Long Island are national and world leaders in energy science and technology, and especially in green energy. This facility proves that," Gibbs said. "We'll be able to figure out, at a much finer scale than has ever been done before, how a solar array actually works."
Brookhaven researchers will monitor the light absorbed by the solar panels at the LISF, compare that to the electrical current that is actually produced, and look at the impact on the electrical grid, Gibbs explained. He also discussed a smaller solar array for research being built at Brookhaven. That array will be a user facility where researchers from companies, universities, and other national labs can test new components on a utility-scale array.
"When you put together vision, risk taking, and the intellect to make things happen, that's what we are as Long Islanders," said New York State Senator Ken LaValle, who spoke after Gibbs. "This has all the ingredients that political people and governmental officials like: green energy, the future, public-private partnerships."
Kevin Law, president of the Long Island Association, then told the audience, "The way we're going to meet our challenges here on Long Island is through collaborations and partnerships; we need all levels of government working together like we have here. We need the business community working with the government. We need environmentalists working with developers. We need Republicans working with Democrats. When we do work together, we're going to see more successful projects like this get off the ground."
"We're here celebrating something so amazing, a milestone in Long Island history," said Dan Losquadro, New York State assemblyman for the First Assembly District. He also explained that this is an opportunity for research and development so this technology can enter the mainstream, not only in the desert states of the southwest United States, but across the country as well.
Gordian Raacke, executive director of Renewable Energy Long Island, then said, "We're generating 32 megawatts of clean energy — no emissions, no greenhouse gas emissions, no sulfur dioxide, no nitrous oxide emissions — just pure clean energy provided by mother nature."
"Instead of sending our hard earned money to fuel-producing regions of the country or the world to pay for that fuel, we're keeping that money here in the local economy — employing local men and women, local labor, to make this happen," Raacke also noted.
"This is what environmentalists dream about," said Adrienne Esposito, executive director of Citizens Campaign for the Environment and member of Brookhaven Lab's Community Advisory Council. "This is a transformational project, not just for Long Island but for our nation. One that takes us a step away from dirty, dangerous fossil fuels to a future for clean, safe renewable energy."
"There is no greater transformation our nation needs than to change the way we produce energy. This is what will save the planet, this is what will give us a better society and a brighter future," said Esposito before emcee Deering returned to the stage for closing remarks.
2011-2719 | INT/EXT | Newsroom