Brotherly Love for the Gift of Life
BNL siblings always find time to donate blood
December 13, 2011
If you combine the number of years the Paquette brothers, Doug and Mike, have been rolling up their sleeves to donate blood, that number would be greater than 50! Both men give blood at least twice a year.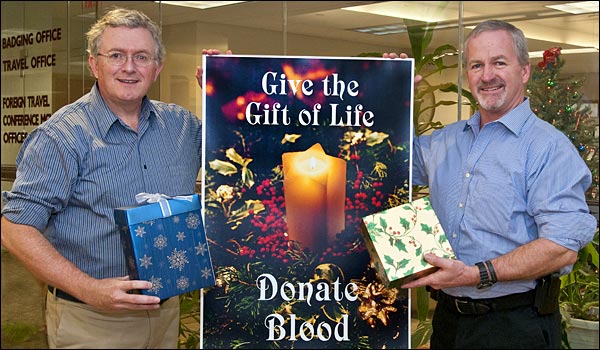 Doug and Mike Paquette
"On Long Island, we have access to the best healthcare in the world," said Doug Paquette, who works in the Lab's Environmental Protection Division. "But hospitals depend on ordinary people like us to ensure they have an adequate blood supply on hand."
Mike Paquette of the Lab's Facility and Operations Directorate agreed. "We are immensely grateful that our family has never needed an emergency blood transfusion," he said. "Still, we want to make sure that blood is available for our family, friends, and neighbors."
Both men agree that donating at the Lab is easy and convenient. "And it isn't just about eating the jellybeans and donuts provided after donating," Mike said. smiling.
"All kidding aside, Mike and I agree that it is definitely the best hour someone can spend that truly makes a difference in their community," added Doug.
Consider rolling up your sleeve for the next BNL blood drive. December 15, 2011. Click here to make an appointment: http://www.bnl.gov/hr/blooddrive/
2011-2743 | INT/EXT | Newsroom